The Eden Project buzz has re-ignited this past week – and I am here for it!
New images of what the proposed attraction at Dundee's former gasworks will look like were released last week and it brought even more attention to what will be like if the application submission is approved by next year.
The new images included a more detailed look into the regeneration of the disused industrial site and are also in response to feedback from consultations which have taken place.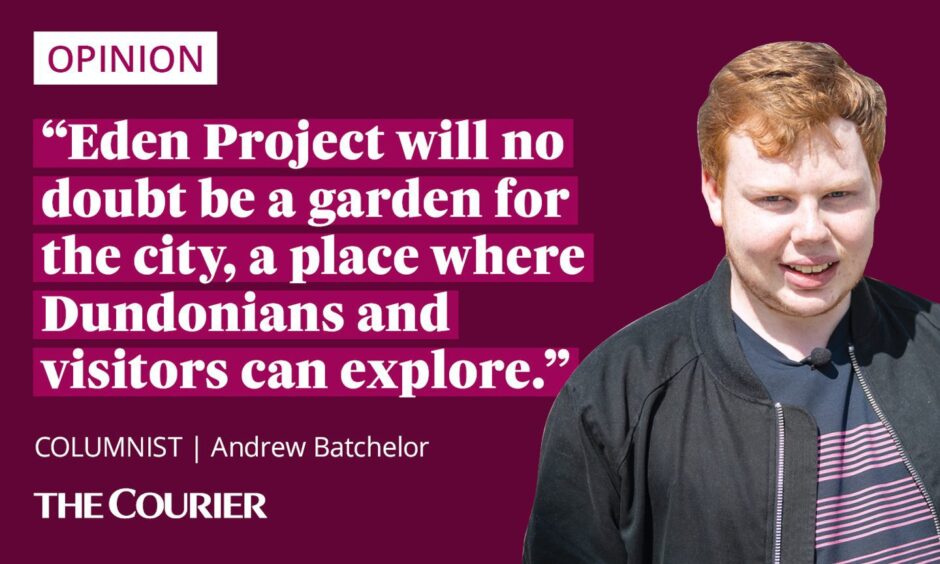 The new attraction will be labelled "Eden Earthworks" and will be the location of four stunning venues which will delve into the subjects of the environment and sustainability.
With the water features, lakes and lush landscapes, Eden Project in Dundee looks set to dazzle.
The surroundings look so exotic I wish I could go right now.
Seeing pictures of the plans for the old gas holder and the surrounding areas was exciting, particularly the waterfall-like feature inside with trees and leaves dangling from the glass ceiling.
It reminds me of Jewel Changi Airport in Singapore which is home to an iconic indoor waterfall.
It would be amazing to see Dundee have its own answer to it.
Eden Project will no doubt be a garden for the city, a place where Dundonians and visitors can explore, and the educational benefits are something I can't wait to see too.
It will be a new place for young children to visit, to learn about the world around them –it would have been amazing to have a place like Eden on our doorstep back when I was in primary school.
Some of the new photos released also show a place which could host some pretty amazing music events.
I know that Eden Project hosts Eden Sessions in their Cornwall site each year which attract big-name artists.
For Dundee to hopefully have some of that action too really excites me.
Imagine having the likes of Bryan Adams rock on stage to the Summer of '69 or Fatboy Slim doing a DJ set across from the City Quay?
That would be fantastic and brilliant for locals and visitors to experience in Dundee.
Following on from the success of Big Weekend, having Eden Sessions in Dundee every year is exactly what the city needs – it would be great for Eden Project to be the venue for that.
It is hoped Eden Project will help boost Dundee's economy by £27 million a year and  create up to 200 jobs which is fantastic.
With Eden Project in Cornwall generating over £2 billion for the local economy since it opened its doors in 2001, there is no denying that Eden Project could bring long-term benefits to Dundee and the local area in the years to come.
I believe the whole of Dundee needs to get behind this exciting new attraction, because if it happens, it will not only be a significant addition to the city, but it will be responsible for being the biggest change in fortunes Dundee will have seen in a long time.