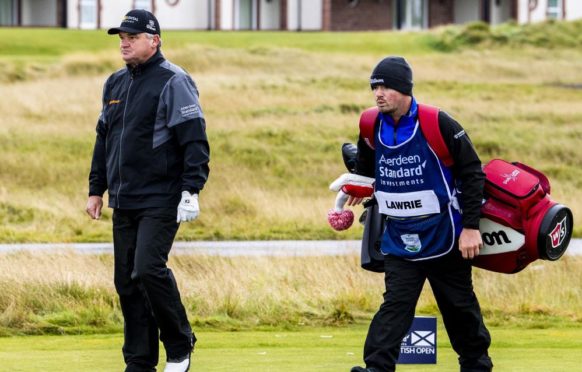 I have to add my congratulations to Paul Lawrie on a fantastic European Tour career.
You can't argue with his logic in calling it a day.
He summed it up well by saying he's the type of player who needs to dedicate himself to practice on the range and he can't do that to the extent he would want to.
And seniors golf is to appealing and lucrative these days so it's a natural transition.
Even if Paul hadn't won The Open he would still have achieved enough to secure his place as a Scottish golfing legend.
But the drought of other Scots even contending for our home major since 1999, let alone lift the Claret Jug, shows just how big a deal Carnoustie was.
And don't listen to anyone who belittles that win. It's just sour grapes. He held his nerve when others wilted and tournament golf is all about the final total, not how you get to it. That will never change.
I interviewed Paul at the last Open at Carnoustie and hopefully he'll play at least one more of them in Scotland to give his own people the chance to show their appreciation.
The work he has done to promote junior golf over here has been a career of its own and you wouldn't be surprised if he plays a part in developing the next Scottish major champion.
* I can't be the only one who really enjoyed watching the golfers struggle in the wind and rain at the Scottish Open last Saturday, can I!
We're so used to low scores and the pros getting everything their own way that seeing how they survive in brutal conditions is a rare treat.
It goes back to what I was just saying about Paul Lawrie's Open win –  it's about who adapts to everything that is thrown their way and who fades away and starts thinking: 'Ah well, there's always next week'.
What I will say is……I did feel sorry for the caddies!
* It's been a very strange time for curling.
For the European events that have gone ahead so far, apart from no spectators, if you were watching on TV you wouldn't really notice any major difference to the pre-Covid events.
No players are wearing masks and it's still the old rules – two sweepers allowed etc
Compare that with a big tournament that has just taken place in Oakville, Canada. It's one that we've played a few times in the past.
The men's event had to be abandoned at the weekend when they had reached the semi-final stage.
One of Glen Howard's team (my old coach) was identified on their track and trace. They all had to isolate (despite testing negative) and the rest of their tournament was abandoned.
They were also playing with one sweeper and a raft of other precautions.
The ladies were able to continue to the end but there have been significant drop-outs for the second of back to back tournaments over there as a result of what happened in Oakville.
We're supposed to be playing a tournament in Switzerland in November but there are a lot of questions that will need to be answered before then and at the moment my heart and head are sending me different messages.