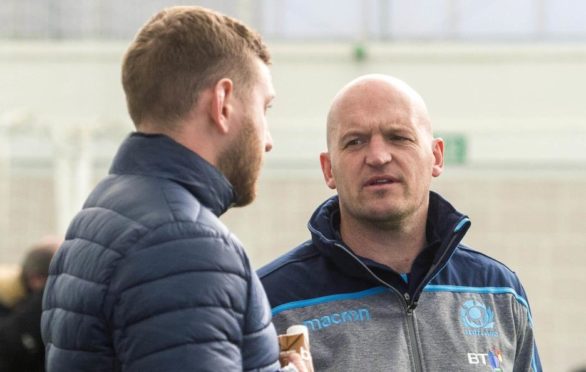 Full credit to Gregor Townsend and Finn Russell.
I think most of us had probably resigned ourselves to the fall-out between the Scottish rugby team's head coach and its best player not ending up with a happy ending.
I guess we'll probably only know for sure when one of them retires or decides to write a book quite how big the bust-up was but when you have two big egos and personalities deciding to leave what's happened in the past and move on, it deserves to be praised.
So many times, these things drag on far too long but Townsend and Russell have nipped it in the bud.
They may hate each other for all we know but that doesn't have to stop them having a good working relationship.
I would imagine neither will look back on the episode earlier this year with any pride.
It should never have come to Russell missing out on the Six Nations.
They backed themselves into their own corners and officials in the SRU should have made sure it got sorted out quickly.
For a lot of people in sport, lockdown and time away from competition has been a chance to take a step back and gain perspective. That seems to have been the case here.
Let's hope we get that happy ending after all.
* We've had to make a big decision as Team Muirhead.
There is a new tournament in Switzerland at the start of next month – the European Super Series in Geneva – that British Curling has entered a few teams into but we have decided not to travel.
It's the sort of call every team has to make for themselves and we came to the conclusion that the risks by far out-weighed the rewards.
Nobody is more desperate than me to get back competing again than me but it has been a case of head ruling heart.
If it had just been a case of flying in and out for one tournament then maybe that would have made a difference to our thinking but part of the deal is we would stay on for another week of mixed doubles.
There won't be any testing at the competitions and we just felt there were too many people coming in and out of the venues – on top of all the travelling.
Coronavirus is on the rise everywhere in Europe just now and it just doesn't feel sensible to be taking such a big risk. If it had been for a European Championship, World Championship or an Olympics then, of course, we would have done it.
But in the grand scheme of things, this event won't have a big impact on our careers.
It was a unanimous decision and, remember, we have a nurse on our team, Vicky, who knows all about the trajectory of the virus and how dangerous it is from treating patients during the first peak.
None of us would be tested from the moment we left Scotland until after we came back. If we brought the virus back without knowing and passed it on, we'd never forgive ourselves.
The frustrating bit is that we were ready to compete when Covid-19 levels were much lower but weren't allowed to travel.
In the here and now, though, there was only one common sense decision to be made in our eyes. The pros are out-weighed by the cons.