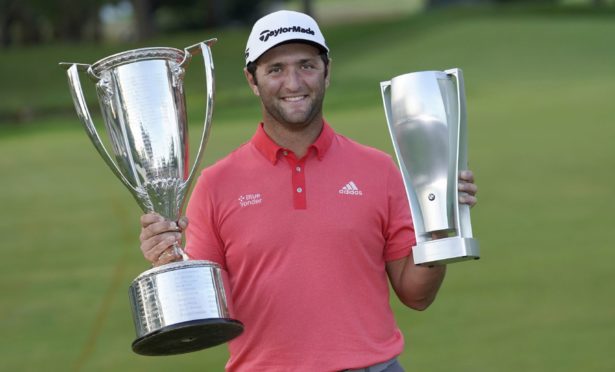 If you haven't already seen it then take a look at Jon Rahm's incredible hole-in-one.
People have been saying the skip-over-the-water at the 16th is one of the most amazing golf shots ever played and it is hard to disagree with that.
It was unbelievable enough in itself but even more so when you consider he got a second hole-in-one just 24 hours later…on his birthday!
That was even before the Masters started.
I don't know if he did so but I hope the Spaniard put on a lottery ticket this week.
It was also nice to see the guys having fun at Augusta.
It gave you an insight into how even the top golfers like to mess about a bit during the build-up to the actual competition.
The delight on his face was something to behold and definitely lightened the mood a bit.
Sadly, I have never produced such a wonder shot myself on the golf course.
I haven't been able to shoot a hole-in-one yet but there is always time I suppose. Fingers crossed.
You couldn't have hoped for a better advertisement for a tournament than that shot – not that the Masters needs any hype.
It is such a pinnacle event in the golfing calendar that you really missed it when it wasn't there back in April.
The course, without the usual cheering spectators, will look and feel very different in the autumn for the players but it will still be very special.
I have not seen an awful lot of sport on TV of late but you can rest assured that I will be glued to the telly over the weekend.
Augusta never really disappoints as a course and there is a lot of intrigue, which appeals to me.
For example, when Jack Nicklaus won his sixth Masters in 1986 it was 23 years after his first win in the event. Should Tiger Woods defend his title then it will be his sixth Masters and 23 years since his first green jacket.
That sounds like an omen to me and, as that shot from Rahm proved, there have already been strange things happen at August this week!
~ I greeted the news that a coronavirus vaccine looks to be on its way with cautious optimism.
It is positive news for everyone, including athletes in all sports.
There is a lot of work to be undertaken yet and there will be millions of people ahead of the likes of me in the queue but it has given us all a lift nonetheless.
For us curlers, the big event on the horizon is, of course, the Olympics in China in February 2022 and the vaccine news does offer real hope that the Games will feel as normal as possible after these challenging times.