Going into tomorrow's big Calcutta Cup match at Twickenham, Scotland are the team with the better recent form and England are the ones who have a longer record at the top.
You can make a strong case on both sides for one factor being more important than the other.
For me, being consistent over a decent period of time counts a bit more.
England are on a 17-game winning run. They've won matches when they've played well and they've won matches when they've not played well.
As a team you trust yourselves that you will be able to win, with that sort of history, no matter how a game pans out.
I would take that over current form and the peaks and troughs Scotland have had over the time England have won their 17 matches.
It does make me worry a bit but, because the Six Nations is such a short race, the momentum factor that Scotland have is huge as well.
The first weekend sets the tone, and Scotland's win against Ireland set it in a really positive way for us.
The loss in Paris was a narrow one so it wasn't too serious a set-back and the win against Wales was achieved after a couple of really important players were ruled out.
Saturday will be a different kettle of fish and I hope this isn't the game when the injuries in Paris come back to bite us.
And you can't dismiss the length of time Scotland have gone without winning at Twickenham.
There's no doubt that in sport you can feel more comfortable and confident playing in one arena over another. It can be a case of feel good, play good.
You have to deal with what's in your control. Make sure your training is as good as it can be and your performance on match day.
If you can't influence something, don't let it affect you. Control the controllables.
I've still got hope Scotland can win but it's a huge challenge.
* What an unbelievable weekend Laura Muir had at the European indoor athletics.
When you see somebody run away from a field the way Laura did, it really has an impact.
We're not used to seeing that from a Scottish athlete.
I'm sure Laura will put it in context, though.
As big as deal as it is to get your first major medals and as impressive as her runs were, she'll know that the world class competitors in her events – African and American athletes – weren't there.
It's like that for us when we do well at the Europeans.  Powerful curling nations like China and Canada aren't there.
You take confidence but you know you need to keep on improving for even tougher challenges.
* Talking of tougher challenges, we're flying out to China tomorrow for our World Championships.
I don't think we went out soon enough when the Worlds were in Japan, so we've tweaked our plans a bit this year and we're giving ourselves more time to acclimatise.
Hannah Fleming's team went to the same venue recently and our physical prep coach was out with them, so we've got a bit of knowledge of what to expect over there.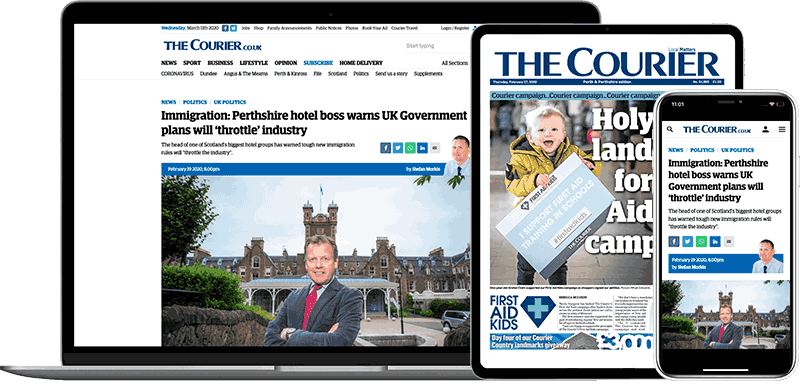 Help support quality local journalism … become a digital subscriber to The Courier
For as little as £5.99 a month you can access all of our content, including Premium articles.
Subscribe