The Canadian dominance of men's curling shows no sign of slowing down.
They've won another world title and are like machines these days.
Unfortunately Scotland struggled a little and didn't make the medals but the good news is Team Murdoch did enough to secure a spot at the Olympics games for Great Britain.
It hasn't cleared up selection, mind you.
David Murdoch's rink were in control and if they had medalled at the Worlds they would have made a strong case to be picked on the back of that.
It's going to be a tough job to choose now, though. I'm glad I'm not on the selection panel, that's for sure!
I really don't know which way they'll go and, who knows, there might even be a play-off to decide it.
* We're in the middle of the Players Championship in Toronto just now.
As I'm writing this we've won one and lost one in a tough section. You never get an easy ride at the slams.
It's definitely been a good tournament for us down the years – we've won it three times.
Lauren has got a slight shoulder injury so she isn't with us this week. She's resting up. Kelly Schafer has nipped across from Swift Current to join us.
She is so versatile and it's been a real positive of our season that we've been able to be flexible and successful when we've had to make line-up changes.
We've qualified for the Champions Cup in Calgary the week after next so, instead of flying back home and then out to Canada again, we'll be off to Mexico next week for a bit of R&R!
Heading off with another Players title in the luggage would be perfect.
* I was saying in the column the other week that the Masters never fails to throw up a great winner's story, and this year was no different.
Like everybody else, I was so happy for Sergio Garcia.
We just landed in Toronto in time to see the last couple of holes. What a fight he put up.
It wouldn't be a shock for him to now go on and win a few more majors. He's always had the game. All that was holding him back was a bit of belief but that won't be a problem anymore.
I reckon Dustin Johnson would have been quite happy with the result as well.
His injury was a sickener. Yes, he'll have plenty more chances to play Augusta but he might never be in such good form again.
He wouldn't have wanted one of his main rivals like McIlroy, Spieth or Fowler winning while he was out of action to close the gap to number one and getting the first major of the season tucked away.
Johnson was the main man going into the Masters and you'd say he still is coming out of it.
* It was disappointing to hear that the National Hockey League in America won't be letting its players take part in the Winter Olympics.
The ice hockey generates a lot of publicity for the Games so you want the best players in the world there.
Hopefully there will be a change of mind. If not, a bit more focus on curling would be great!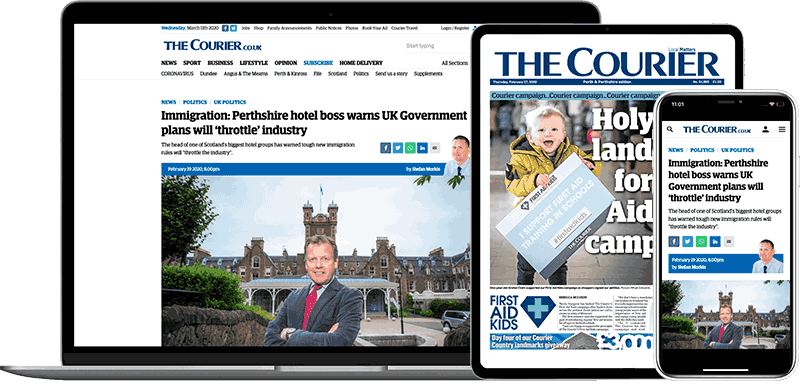 Help support quality local journalism … become a digital subscriber to The Courier
For as little as £5.99 a month you can access all of our content, including Premium articles.
Subscribe