Andy Murray will be 30 in a couple of days and, like everybody else when they have a landmark birthday, I'm sure he will be reflecting on his career so far.
He's been incredibly but no athlete is ever completely satisfied and no doubt he will feel he should have won more grand slams.
If we're giving Murray say another five years competing at the very top, the biggest issue I can see ahead is making sure his body gives him the best possible chance.
Given the injuries that he's had so far in his career, that's no certainty.
I don't think you'll see him loading up tournament after tournament like he did at the back end of last season chasing the world number one spot. He's still recovering from that now.
That box is ticked and it should all be about the grand slams and how best to prepare for them from now on.
The more I've been involved in sport the more I come to the conclusion that planning your season well and getting proper breaks is crucial.
Another dilemma for Murray will be, does he start prioritising his Grand Slams?
Wimbledon and the US Open are the ones he has won so far. Does he think they are his best bet for more? Or does he go chasing the career Grand Slam, making the French and Australian Opens his biggest targets?
It's probably easier for Rafa Nadal, who is better on clay than the rest of the surfaces. If he wins the French, everything else is a bonus. And Roger Federer probably writes off the French at this stage in his career, which means he can rest up a lot between Australia and Wimbledon.
The chances of the big four all being at their best at one grand slam appear to be slim.
* As far as Djokovic is concerned, he's taken a huge gamble by getting rid of virtually his whole coaching team.
Things haven't been going great for the best part of a year and this will either go one of two ways. It will kick-start another golden spell or it will speed up a gradual decline.
* There's been a bit of excitement in the women's game. Nobody could say that Maria Sharapova's return has been dull!
By the look of things, the Sharapova v Eugenie Bouchard rivalry should be well worth watching.
We must be a more civilised bunch in curling because we never have any trash-talking like there has been between those two. Or at least none that I hear!
* It's been a while now since I was last at a St Johnstone game but I'm always looking out for their results and I chat to some of the players every now and again when they're training at Stirling Uni.
This weekend could see European football coming back to Perth again and that would be another huge achievement.
* The golf clubs have made it as far as the boot of my car now.
I better get some practice in soon, though, because I've just signed up to represent Scotland in the Celebrity Cup at Celtic Manor!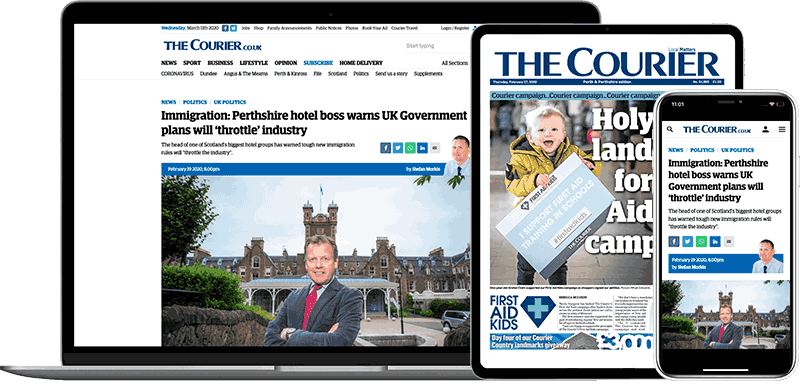 Help support quality local journalism … become a digital subscriber to The Courier
For as little as £5.99 a month you can access all of our content, including Premium articles.
Subscribe