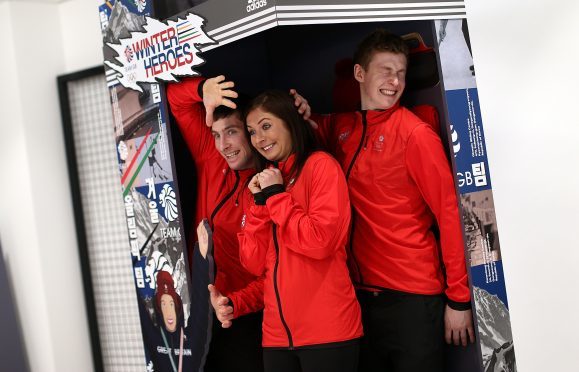 You don't completely feel like an Olympian until kitting out day.
We had ours on Wednesday and it's like a military operation.
It's a bit different from say, a Ryder Cup, where they take all your measurements well in advance.
What happens with Team GB is you try on different stuff to see what fits.
There's rack after rack of everything in all sizes.
After that, it can't be more than an hour before you're in the warehouse picking up three big bags of kit.
There must be 20 different tops, five jackets, seven or eight bottoms, gloves, hats, scarves, flip-flops, a washbag and plenty more.
Don't ask me what happens to all the kit that doesn't get used. I get asked quite a lot what I do with mine and the answer for most of it is – I keep it!
Mostly that's for sentimental reasons. I've got plenty of bits and bobs from Vancouver and Sochi, and when they get dug out they bring back happy memories. Some of it – the stuff that isn't too plastered with Team GB logos – gets worn again.
I wouldn't say there's more kit than eight years ago but it's definitely trendier.
And this year we even got some nice headphones and a juicer from Panasonic!
You would think that it could be a long, boring day but it's the exact opposite. There's a real buzz and there are plenty of things to occupy your time. They've made it a really fun day.
This time next week we'll be in our holding camp in Japan.
Between now and Wednesday, when we fly down to London, I'll spend a bit of time with friends and family and a few sessions in the gym and on the ice.
* We had our last media day at the start of the week with the men's team.
I've got to say, I think the boys are taking it all in their stride so far.
I don't see that much of my two brothers but they're pretty chilled at the moment and the team has certainly been playing well on the ice.
They won't be going to PyeongChang as the gold medal favourites but they will definitely have caught the attention of the other teams hoping to be on the podium.
* I'm not quite sure what to think about an 11-year-old being selected for the Commonwealth Games.
Anna Hursey will become the youngest Brit, and possibly the youngest person of any nationality apparently, to compete at a Games when she plays table tennis for Wales.
Eleven!
Wow. People said that I started young but, nowhere near that young!
They say that age shouldn't matter if you're good enough. But when you're that young, I do think age does matter.
Even if she's got a good protective family around her it will be impossible to shield her from the attention and pitfalls of being thrown into the public eye like this.
However well she plays, she'll be huge news in Australia.
Life should be normal for an 11-year-old but it is now going to be anything but normal for Anna. Fifteen is still incredibly young and holding her back for another four years might not have been a bad idea.