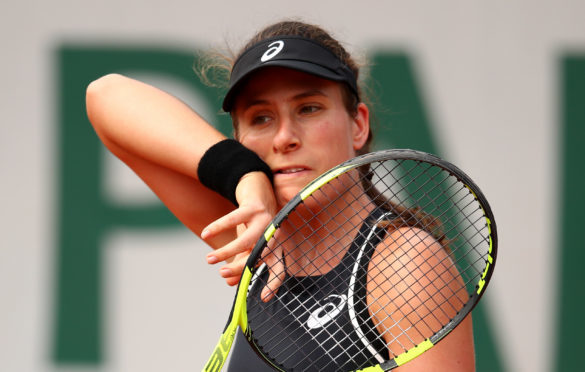 I can't really think of any circumstances when it is advisable to take on the media like Johanna Konta did earlier in the week.
The only time you can maybe get away with it is when you're at the very top of your game and have just won a big event.
Konta, though, chose to have a pop at the British written Press after yet another early French Open exit.
She may or may not have an argument about how her performances have been portrayed but when you've been as consistently poor as she has been on clay courts, it's not a good look to be criticising anyone apart from yourself.
There will be no doubt that Konta will have had plenty of media training over the years. We all have when we get to a decent standard in our sport. And we all know that you can be made to look bad if you get things wrong.
One of the toughest interviews I've ever had to give was to the BBC's Steve Cram after we lost our bronze medal match at the Olympics.
So many things are going through your head and a lot of them you know – even at a time like that – you have to keep to yourself.
We come straight off the ice to do our interviews and there are other sports like athletics where that happens. But in tennis they get a chance to have a shower, get changed and collect their thoughts before they sit down in front of the Press.
That's why you can't give Konta an excuse that it was in the heat of the moment.
Also, she has criticised the media, but the coverage she got at Wimbledon last year was off the scale. It made her a household name and plenty of money, no doubt.
You can't have it both ways.
There's the phrase 'all publicity is good publicity' but that's not true.
Konta has put herself under more pressure at Wimbledon and she will also have made a lot of people change their opinion on her.
She might have felt better for a short while but I think she'll wish she had bitten her tongue.
* Playing a ball as it lies is one of the basics of golf and rightly so.
Everybody who has played the game knows the advantage you can gain when you're allowed to lift, clean and place.
But sometimes there is no option.
According to Cristie Kerr the US Women's Open would be a "joke" unless preferred lies are allowed.
Apparently there has been a tropical storm in Alabama.
Constant plugged lies and mud balls make it a bit of a lottery so common sense should prevail.
* It was just over four weeks ago that I had my operation.
I'm pretty much walking with no issue now and I've been doing upper body exercises in the gym.
It's been really reassuring to have Linsey Thompson and Dave Leith map out my recuperation programme because I've known them both for years and trust them completely.
I think their biggest issue will be making sure I don't push things too quickly!