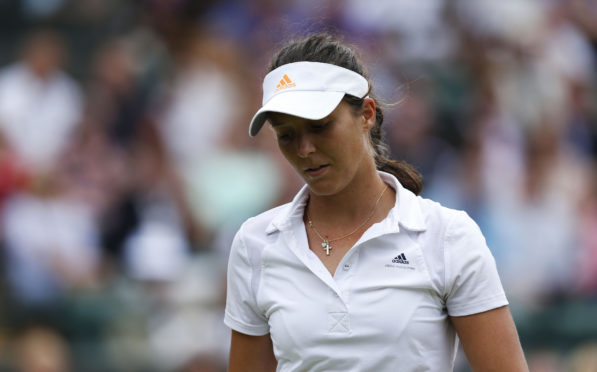 Your heart has to go out to Laura Robson.
At 24, she's younger than me, but, like me, is facing up to months out after hip surgery.
It really doesn't seem like 10 years ago she announced herself to the world by winning the Wimbledon junior title.
At that point, a career at the top of the game looked to be on the cards.
The last few years, though, have been a nightmare for her with injuries.
It's such a shame.
There is no such thing as a sure-fire success, no matter how good your junior record is.
Even in curling, a sport where a high percentage make a successful transition from juniors to seniors, talent can be unfulfilled due to work commitments and funding.
Just look at Team Smith, who are strugling to juggle their farm commitments with their sporting ones.
And I've got my own injury to recover from just now.
You really can't take anything for granted.
If my career ended tomorrow, I'd be devastated but at least I'd know that I'd fulfilled a lot of the goals I had when I started out.
Andy Murray would probably say the same.
For someone like Laura, who must feel like her career is slipping away from her, the mental turmoil of knowing that your dreams have been taken away through no real fault of your own must be incredibly hard to deal with.
I think of a career in sport as like using a sat nav. You know where you want to get to but you don't know the route you'll be given…..or if your car will break down.
* The signs look pretty positive that Murray will be taking his place in the Wimbledon draw.
I certainly hope so because I've got tickets for Centre Court on Tuesday and it would be great to see him in action!
People were maybe getting a bit carried away when he beat Stan Wawrinka at Eastbourne earlier in the week and the defeat to Kyle Edmund put things back into perspective.
It will be hard for a competitor like him but he will know deep down that this has to be treated as another event on the comeback trail.
You can see that his lay-off hasn't affected his skill-set but as soon as he is taken into a long five-set match – or has to play another round after one – it's going to be tough.
There is no shortcut to getting your game fitness and agility back.
If he can get to the second week (fit and well) that would be a great outcome.
* I was glad to see that Serena Williams was seeded. Actually, she should be a lot higher than 25.
Being out of action because you've had a baby isn't like being out injured. It's a natural thing and women's rankings should take account of that.
* Germany and football are probably like Canada and curling.
There are good aspects of being from a country where your sport is big news but, as the Canadian curlers found out at the Winter Olympics, and the German footballers will now be discovering, when it goes wrong, there is nowhere to hide.