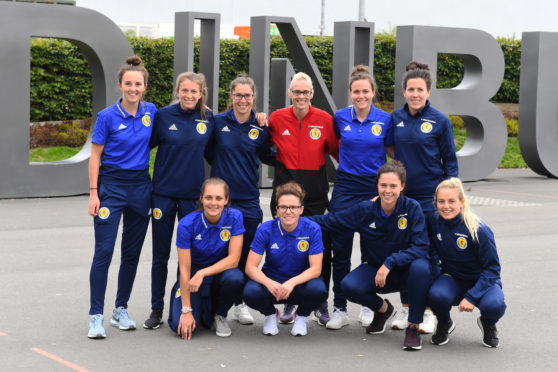 What a feelgood story the Scottish women's football team have given us this week.
But I must admit the level of the coverage they have got has pleasantly surprised me – not just in Scottish terms but British as well.
Next summer will be huge for the sport.
Because so much of the men's football is on pay-for TV, the women's game gets a lot of terrestrial TV coverage.
If the Scots do well, the likes of Lisa Evans and Erin Cuthbert will be household names.
And who knows where this could go for Shelley Kerr.
I've seen plenty of her at Stirling Uni when she was the men's coach and you wouldn't rule out her coming back to the men's game at some point at an even higher level.
* You can take Andy Murray's decision not to play in the Davis Cup tie at Glasgow next week two ways.
One is that it's another sign that his body is still letting him down.
And the other is that if he thought his career was coming to an end in the near future he'd have played at Glasgow as a final farewell to his Scottish fans.
Either way, the event won't be the same without him.
---
>> Keep up to date with the latest news with The Courier newsletter
---
* The European Ryder Cup picks didn't cause much of a surprise.
Sergio Garcia's inclusion seems to be the most controversial but I was reassured by Thomas Bjorn's explanation.
The biggest thing that Europe have had going for them in their years of dominance was the fact that the team was always bigger than the individuals.
That's what Bjorn has been emphasising.
If Garcia's presence is as important as he and a lot of other people have been saying, then that's as good a reason as you can find to pick him.
Europe have their underdog status back and that might be the best thing for them.
* The rest of Team Muirhead are heading off to China to get the season started but the hard recovery work will continue for me in Stirling.
Because of the seriousness of my hip injury I'm having to alter my sliding technique – which is basically like a golfer having to pull apart his or her swing and start again. And when you think about how long I've been curling, that's a hard habit to break!
Without trying to get too technical, my stabilising leg was rotating internally and now I have to rotate it externally.
It's pretty uncomfortable just now but the long-term benefits will outweigh the short-term issues.
The way I look at it, this has been an opportunity to break down my technique that I probably wouldn't have got without the injury.
Looking back, my slide wasn't as stable as I would have liked and the plan is that my new one will bring a lot more consistency – and that's what you need when it comes down to the big pressure shots.
Dave Leith has helped with the physical prep needed, Lindsay Thomson is my physio and Dave Murdoch has been able to have an input on the technical aspects.
For my body and my game the changes will be a good thing.