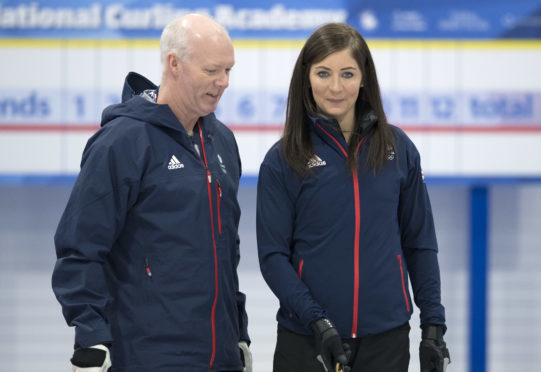 It feels great to be back in Canada.
A lot of people have gone out of their way to ask about my comeback, which has been much appreciated.
After playing in Sweden recently, I definitely feel like a full-time athlete again (complete with the aches and pains!)
This feels like a really important week for us.
We've spent three days training in Winnipeg before heading to Portage for our first event over here.
Dave, our strength and conditioning coach, is in Canada for week one and then when he flies back Lindsay, our physio, will arrive for week two.
Dave has been making sure I'm keeping going with my rehab and not slacking off. It's important that just because I'm back curling, I don't neglect the physical side of things.
Glenn, our team coach has been with us on the ice.
It's great to be back working with him after a long summer.
He's taken on an even bigger role with the team and I can only see that being a good thing.
For our new team members, Jen and Vicky, it's the first time they've worked with Glenn.
I can tell that they're getting a lot out of it and the quality of training has been as high as I can remember.
Playing the Stockholm Ladies felt great. Making the quarter-finals wasn't too bad for the first time out and we lost to a double-Olympic champion in Annette Norberg.
This weekend will be another step up but even though I'm ahead of schedule and came through Stockholm feeling good, I'll still be very sensible with my workload from now on.
* Lizzy Arnold announcing her retirement this week wasn't a great surprise to me.
She's a double Olympic champ, and is Britain's most decorated Winter Olympian.
What else does she have to prove? She's now married and I know she's been through a couple of tough operations.
She'll have life and career goals still to fulfil but this is a chance for her to enjoy her life without all the gruelling training, travelling and competition.
There have been a lot of great role models for girls in sport in the last few years and Lizzy is definitely near the top and has proved that nice people can succeed.
And for the rest of us Winter Olympians who are keeping going, Lizzy has set the bar pretty high!