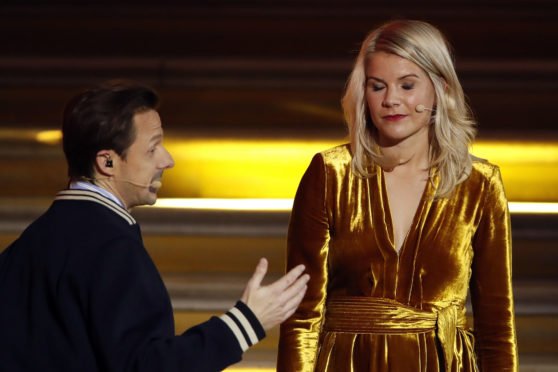 Curling isn't perfect but I would say that our sport does better than most as far as giving women the same opportunities, respect and profile as men.
After what's happened over the last few weeks, it looks like football still has a long way to go.
To describe the host of the Ballon d'Or awards asking the women's winner if she knew "how to Twerk" as cringeworthy TV would be an understatement.
Ada Hegerberg looked perplexed and I would have been too.
No wonder the likes of Andy Murray were quick to condemn it.
He described it as "Another example of the ridiculous sexism that still exists in sport."
Also last week, a women's football coach in England wasn't happy with a kick-off time that meant half her team couldn't play.
You don't see men's matches kick-off at 7pm over here. So why should that be the case with women?
I'm lucky to be a full-time athlete but there are plenty of women in sport, including football, who aren't.
This all follows on from the referee who forgot his coin and used rock, paper, scissors to decide who kicked off.
You could 100% guarantee that wouldn't happen in men's football.
Women's football is growing all the time – particularly up here after Scotland qualified for the World Cup – but there is clearly still a long way to go.
* It's not been long since I last got the chance to represent Scotland at the European Championships and I'm getting another opportunity in America this week.
The World Cup is a new event this season.
It's a series of competitions over the calendar run by the World Curling Federation. The first one was in China while I was still recovering from injury.
In many ways, it's very similar to Grand Slam events in terms of the crowds, standard of competition and prize money. The difference is that in the World Cup it's individual countries not the top eight teams in the world.
There are two sections of four and you play a double round robin.
We got off to a good start by beating China, and we've also got Japan and Sweden in our group. There isn't a semi-final so only the winner goes through to the final. That doesn't leave much margin for error.
There are a few rule changes to make the games more exciting, one of which is you only get four minutes of thinking time in the eight ends. Believe me, that's not very much!
The arena here in Omaha is outstanding and the crowds are good too. Americans love winners and having an Olympic gold medallist to get behind should make a big difference in growing the sport over here.
It's less than a year since the Winter Olympics but I definitely get the feeling that curling has come on leaps and bounds since PyeongChang.
* My team-mate Lauren Gray is on the front cover of next year's Women of Curling calendar.
Lauren is one of 15 athletes who have got involved to raise money for charity.
She has chosen the Scottish Association for Mental Health
Copies are available at the curling rinks at Perth, Murrayfield, The Peak in Stirling, The Waterfront at Greenock and Curl Aberdeen.
They cost £20 each and also be purchased by e-mailing laurenwocc@outlook.com