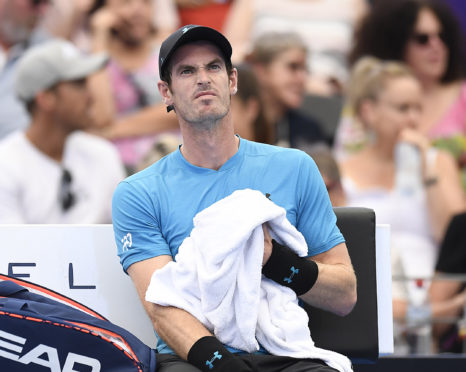 There was a lot made of Andy Murray's comments after his first game back in 2019.
Murray had just won and then said that he wants to enjoy his tennis as much as he can because he doesn't know "how much longer it's going to last".
What followed was a series of headlines about fresh doubts over his career.
That wasn't how I took it.
For me, he was only stating the facts.
There are no guarantees when you undergo a serious operation, especially when you're nearer the end of your career than the beginning.
I know that my hip will never be 100% and that I'll have to manage it for as long as I curl. Murray will be the same.
It will continually be a case for him of weighing up the pros and the cons.
If he can deal with the pain and have faith that he isn't making the injury worse, it may well come down to whether he feels he's able to compete at the top.
And he won't find that out until he's been on tour for a few months because the tennis world hasn't stood still while he's been away.
His second round defeat in Brisbane showed that.
Match sharpness doesn't come back straight away.
So I don't think it will necessarily be his body breaking down that will spell the end, it will be not being able to win.
And, like he said, no-one can predict the future.
* The Russian doping story has reared its head again.
The deadline has passed for the World Anti-Doping Agency to hand over data relating to its state-sponsored programme.
Athletes are calling for Russia to be suspended again and who can blame them.
And just a few days ago Lizzy Yarnold reminded us on Twitter that the British bobsleigh team from the Winter Olympics in 2014 still haven't got their bronze medals after Sochi Russian medallists were found guilty of doping.
WADA President Sir Craig Reedie is under big pressure.
Re-integrating Russia isn't as important as the message that gets sent out to the sporting world. That has to be his priority.
* We're heading out to Canada at the weekend for the first competition of the new year.
The number one goal for 2019 is staying fit and healthy.
As a team hopefully we can build on a decent end to 2018, keep improving and re-establish ourselves with a high ranking.
A medal or a two and a Grand Slam win would be quite nice too!
As far as the sporting calendar is concerned, this could be a big year for women's sport.
I think the World Cup will catch fire in the summer with Scotland being in it for the first time (and playing England).
Laura Muir is becoming a genuine world star and I'm really looking forward to the Solheim Cup at Gleneagles.
Happy New Year to you all!