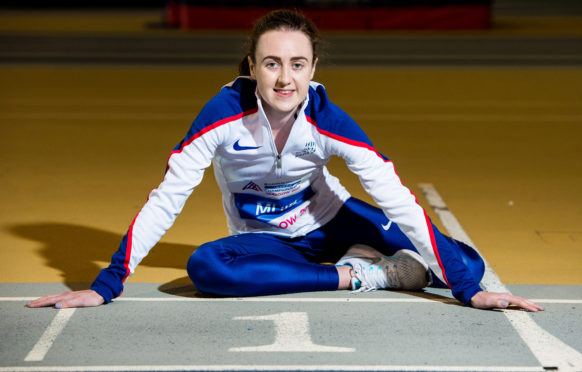 Genuine world class athletes don't come along in Scotland too often but we've got one now in Laura Muir.
Like Andy Murray and Chris Hoy, Laura's is a story that is typically Scottish.
What the three of them have in common is they have built their careers the proper way and have always been grounded.
Too often these days you see sports men and sports women for whom the hype has come before their achievements – and in some cases the achievements have never actually arrived!
Not for Andy, Chris and now Laura.
It has been steady and sustained progress for her over the last few years, with one or two knocks along the way.
She has always looked on a set-back as part of the bigger picture and is now getting her rewards.
To skip a Commonwealth games to finish her veterinary degree says everything about the perspective she has on her career.
For a while she was probably really only appreciated by the public who are serious track and field followers.
But now I think she has become a proper 'cross-over' star who most people in Scotland know all about.
The best example of that I can give is that when I've told friends and family that I'm going to the Emirates tonight to watch the athletics, the first thing they say is: "Will you see Laura Muir?"
She's got a great chance of defending both her 1,500m and 3,000m gold medals and will hopefully have a shot at Olympic gold in Tokyo next year.
After Chris Hoy's retirement and Andy Murray's expected retirement, there is a void to be filled by someone – and a dedicated, down-to-earth, female runner from this part of the country could be the one to do it.
* Whenever Nick Kyrgios's name gets mentioned, my automatic reaction is: "What has he done now?"
But, on this occasion I don't think he has done anything wrong.
Rafa Nadal has said that he didn't show any respect by serving underarm at one point during a game that Kyrgios won in Acapulco.
That's not the way I see it.
It's not against the rules and if Nadal is going to use a tactic of standing really far back to return serve, then what's the issue with an opponent trying to take advantage by dropping it as close to the net as possible?
It's like the penalties you see when a player slows down and then chips the goalie. If it goes wrong, you look stupid, but if it works, all credit to you.
* I know I'm a week late but break-dancing in the Olympics? Come on.
That would cheapen the Games and would be a slap in the face for all those proper sports like squash, which have a genuine claim to be included but can't get in.
Yes, you have to move with the times, but that would be going too far. Hopefully common sense will prevail.
* Thank-you to everybody who got in touch after last week's column.
There were some lovely messages sent and I truly appreciate them all.
It definitely helps when you're back in the gym and back on the ice practicing to know that folk are wishing you well.