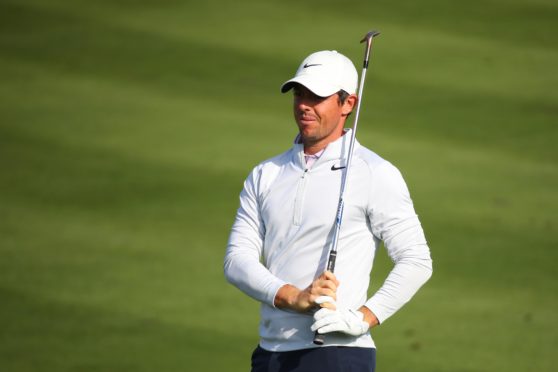 Sometimes you hear statistics that really give you a shock.
Rory McIlroy failing to win a tournament after being in the final group on a Sunday nine times in a row definitely falls into that category.
The way most people used to sum McIlroy up was that when he was hot he was really hot but when he was cold he was really cold.
Basically, he was a streaky golfer who was out on his own at his very best and would win a lot when he was playing well but would have dry spells and drift out of contention for a while.
Maybe we need to rethink that now.
Because you can't imagine the old McIlroy contending nine times and not converting any of them.
It could be the case that these days he has become a more reliable presence on the leaderboards but a less reliable winner.
What hasn't changed is that, whatever his ranking is, he's still the highest profile European golfer and possibly the most talked and written about in the world after Tiger Woods.
I do feel that he needs to box a tournament off pretty soon because the spotlight is about to get even brighter when the Masters comes round – as his quest to complete the Major set is a story every year now.
And then in the summer, McIlroy trying to win The Open in Northern Ireland will be off the scale.
As athletes, we all want consistency – and consistency certainly makes you a lot of money on the PGA Tour.
But McIlroy would maybe swap it for the up and down player he used to be.
* I'm looking forward to a bit of a change next weekend.
I'm going to be playing in a mixed doubles event in Dumfries.
We've got a big gap in our schedule after missing out on the World Championships and it will be good to have a tournament to look forward to to break up the practice and the physio sessions!
There are a lot of differences between traditional curling and the mixed version of the sport.
But it's a game which suits aggressive tactics and that's how I like to play.
And ultimately it all comes down to shot-making in the end.
Duncan Menzies is my partner and he won the Scottish mixed doubles this year as a late sub.
He's a talented player and hopefully we'll work well as a partnership.
This isn't a big career change but I definitely see it as adding another string to my bow.
It's an Olympic sport with Olympic medals up for grabs so it's here to stay.
You never know what the future will hold so I'm definitely happy to play some mixed when I get the chance and maybe later in my career it might be an option to play it more regularly.
At the very worst, it sharpens up skills that are transferable back to my day job.