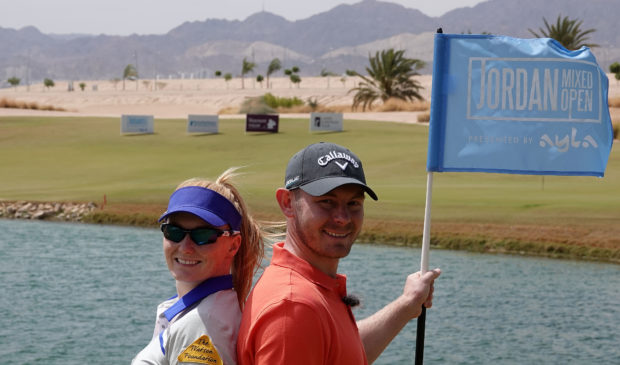 Golf hasn't traditionally been renowned for innovating and moving with the times but that seems to be changing.
We've seen GolfSixes, the Shot Clock Masters, a co-sanctioned European Tour and Ladies' PGA Tour event, and now this week comes the Jordan Mixed Open.
The mixed open is by far the most significant as the men and women will be playing against each other, not just sharing the same course.
It seems like a great a great idea – 54 holes, with 40 men, 40 women and 40 seniors.
There is no reason why the short-game of the three groups should be any different so the biggest issue will be – have they got the course length right?
It's 7,100 yards for the men, 6,600 for the seniors and just over 6,100 for the women.
As anybody who has ever played a mixed event at their own golf club will know, it's a fine line between putting the women's tees in a position that makes it an equal battle and putting them too far forward!
With no European Tour event this week and people starting to get their minds thinking about golf again with the Masters round the corner, the timing is perfect.
It's got good media attention in the build-up, with stories like the married couple Scott and Kylie Henry from Scotland competing against each other.
And if the competition is to really maximise its publicity, I'm sure the organisers will be keeping their fingers crossed for a female winner.
* Sergio Garcia and Matt Kuchar can't seem to keep out of the headlines – and not for the right reasons!
The WGC matchplay event will be remembered for Garcia's botched tap-in that wasn't conceded and the row that followed it.
My own take on it is Kuchar should have said 'that was OK' but warned him that it wouldn't be the next time.
I've heard people say that gimmes should be done away with, and that the simplest thing would be for every putt to be holed out.
I wouldn't want that to happen.
The psychology of when to concede and when not to concede is a huge part of matchplay.
There is planning and thought put into it at whatever level you play.
All of us have stood over a two-footer hoping that our opponent will tap it away, waited and waited and then missed it!
Or we've been given three or four short ones in a row and then been asked to putt the next when we've not had practice at it for about five holes.
Sport, particularly matchplay golf, is as much about the mental side of the game as the physical side of it. That should never change.
* The reaction to my announcement last week that I'm going to be playing for Team Hasselborg in a couple of weeks has been brilliant.
99% of people seem to think it's great for the sport and the Canadian public who are coming to the event are really looking forward to seeing how it pans out.
Anything that gets curling talked about can only be a good thing.