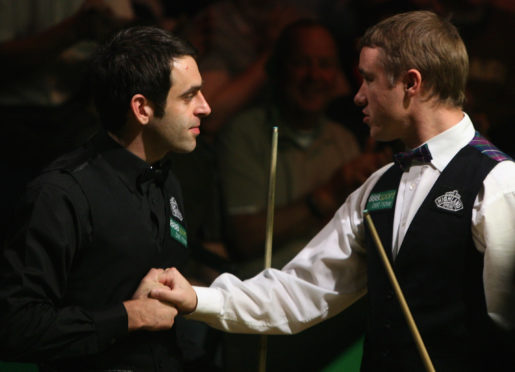 I love all the 'who is the greatest' debates.
The Tiger Woods or Jack Nicklaus discussion looked like it was over but is a hot topic again after The Masters.
And if Novak Djokovic keeps winning grand slams, people will have to reassess where he stands in the list of the all-time best players in sport.
At the moment, snooker is in the spotlight, and some people already think that Ronnie O'Sullivan has proven himself to be above Stephen Hendry, even though he has just crashed out of the World Championships at the first round stage.
He is ahead in other categories like century breaks, ranking titles and longevity.
The truth is, there is no right or wrong answer. It comes down to personal opinion.
It's impossible to compare different eras.
I do think it's much easier in individual sports, though.
The whole Messi or Ronaldo question is impossible because they are different types of players, who are dependent on their team-mates as much as their own talent. And that's before you throw Pele into the mix.
For what it's worth, if your sport has the Olympics as its high point, then your medal count there trumps everything.
For sports like tennis and golf it has to be grand slams and majors, not regular tour events.
And for snooker, it's World titles.
All those events I've mentioned are the ones athletes shape their season around to peak for and they're the ones that carry the greatest pressure, as well as being the ones the public remember most.
That's why they have to carry much more weight than the rest.
So, for me, Jack Nicklaus, Roger Federer and Stephen Hendry deserve to be called the greatest.
* Travelling for a solid 27 hours wasn't the best way to spend my birthday but it's been worth it because I'm having a great time as part of Team Hasselborg here in Canada.
What a laugh we're having. The Swedish girls have been so friendly and have welcomed me into their team with open arms.
It helped that we got off to a perfect start in the Champions Cup with a 7-1 win.
It's not often at this level you can say your game was 100% but I managed that the other night.
Then we backed it up by beating the 2014 Olympic champions, Team Jones, which is never easy.
The girls all have great English but I'm picking up a few Swedish phrases. I'll be fluent by the time the week is over!
The crowds have been great and, like I thought, the interest in my participation as part of Team Hasselborg has been big.
And the TeamHasselhead hashtag on Twitter has been doing really well!