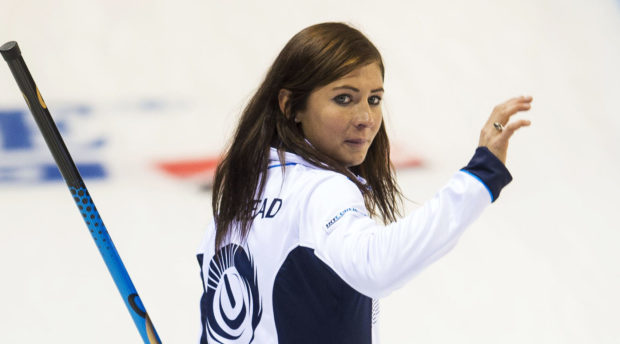 I was really chuffed to get a win at the weekend in Siberia.
I always knew this was a season of transition but it is still nice to come out of it with a title.
There's no point trying to pretend otherwise – I did have moments when I doubted myself.
From an individual point of view questions go through your mind when you're coming back from injury and results aren't going your way. Can I be as fit as I was before? Can I be as good as I was before?
The week I spent with Team Hasselborg built my confidence up again and now this tournament win with my own team has confirmed that I still definitely belong at the top level.
It might have been a new event at a new venue but it was a strong field, with a lot of ranking points for next season up for grabs.
The Olympic silver medallists were in Siberia, as well as a four-time tour winner and other strong teams.
We won all our games and were only ever behind once in the whole tournament. It's the sort of consistency we've been striving for.
It was the perfect way for Vicki to bow out and for the rest of us, it was the perfect way to go into our summer break.
When you're on a long run without a win you have to fight your way back and that's what we've done.
It means we'll go into the start of next season in a good position to get into the Slams.
It's time for a break now to play some golf and get some sun but the time off the ice gets shorter and shorter and we'll be back to the day job at the start of July.
* Even if we hadn't won, I'd still have said the Arctic Cup was a brilliant event.
The organisers made such a good job of running it.
There was a real buzz and the locals got right behind it. It had a real sense of occasion.
Siberia is a unique place and the whole 24-hour daylight thing out there is something I could never get used to!
Hopefully they'll get nothing but good publicity from the tournament.
I'm all for taking curling to new places to try and expand our sport.
After watching the football Europa League final on the TV, it's clear that doesn't always work, though.
Big empty spaces in the ground, a pitch miles away from the cameras and a flat atmosphere is not what you expect from such a big match. And that's before you talk about all the controversy in the build-up.
Baku might find that the phrase all publicity is good publicity doesn't apply in this case.
* I saw the highlights of the women's football at Hampden and the size of the crowd was great.
The momentum is really building for Shelley Kerr's team.
The game seems to be continually growing and, whatever the results in the World Cup in France, I don't think that's going to stop.