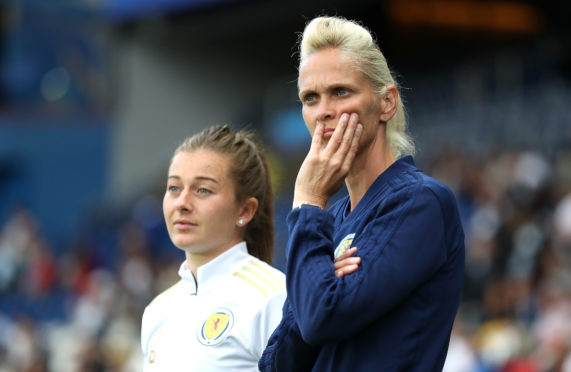 I know how hard Shelley Kerr works and I suspect she is already reflecting on what she could have done better in the World Cup and what her team could have done better.
She was a workaholic when I used to see her at Stirling University and I've been impressed with the way she has carried herself in France.
Don't forget, this was her first qualifying campaign as national coach and her first finals.
She's been on the same learning curve as her team.
My big fear all along, looking back to my first Olympic games, was that there would be times when nerves got the better of Scotland and that looked to be the case in the first half of the England and Japan games and then when they were trying to defend their lead against Argentina.
Shelley won't hide behind VAR in her post-mortem.
It was a real shame that they couldn't quite finish the job off but the first step to improvement is recognising what the causes were.
Scotland have come so far in the last couple of years and the fact that they can get within a couple of minutes of making the last 16 of a World Cup without being at their best shows that there is room for more progression.
To me, there seems like genuine cause to believe that we'll be seeing more of our girls at the big events.
* I have to say I'm a fan of technology being used in sport when it leads to correct decisions, and that includes VAR.
The principle is good but it's the implementation – and consistency – that will determine whether it's a success or not.
On the back of the Scotland game, the English Premier League have come out and said that they won't use VAR for goalkeepers coming off their line to save a penalty, which is a bit of a concern.
I'd hate to think that this strictness will only be applied at the Women's World Cup and quickly forgotten about in the big men's competitions.
That would make what happened to Scotland even harder to accept.
* The sporting calendar is always changing.
Football seasons never seem to stop these days and it's the same with tennis.
Curling is a winter sport but we were still competing at the end of May…..and we'll be back on the ice in July!
The thought of the final major of the golf season being The Open will take some getting used to.
Bringing forward the US PGA helped the profile of that event but I'm not so sure it's good for golf as a whole to have no majors left after the end of July.
That seems way too early to me.
I wouldn't be surprised if there was a bit more tweaking to be done with the golf calendar.