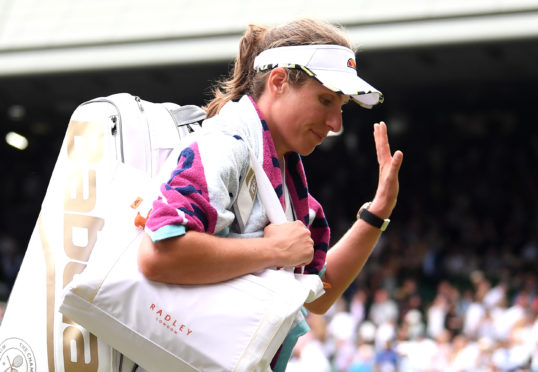 My first instinct when I watched the clip of Johanna Konta biting back at a reporter in her post-match press conference the other day was fair enough.
She thought the guy was patronising her when he said she "presumably wants to go on from here, learn from this and win a grand slam one day".
I actually think it was a poor way of phrasing a question. Of course she wants to win a grand slam – that goes without saying.
But the journalist wanting to dig deeper regarding why she collapsed in her quarter-final, given it has happened in the past, was absolutely fair.
It actually surprises me that Konta, who is 28, allowed herself to snap.
That sort of reaction usually happens when you're new to top level sport.
The sad thing is, her press conference reaction will probably be remembered longer than her run to the quarters, which was a really good achievement.
And given the fact that the tennis players have so few chances to take advantage of all eyes being on them (it's basically only for Wimbledon fortnight), I'm sure she regrets it.
The most important thing, though, is that she goes away and analyses her performance on the court because, as big a deal as it is to get your image right, the actual sport will always be the most important thing.
* As much as the Nadal, Djokovic and Federer rivalry has been brilliant for tennis and we're never likely to see three players like them at the top of the game ever again, it's really disappointing to see the lack of challengers.
In all sports you get players who have their opponents beaten before a game even begins but I can't think of a more glaring example than with these three at Wimbledon.
I don't think the next generation lack skill. They just lack belief and maybe desire.
No wonder Andy Murray is getting heartened by the fact that the men's singles hasn't moved on while he's been out of the picture.
It's more likely that he can get back and throw a spanner in the works of the big three than a new kid on the block does it.
* Second place in the Scottish Open pro-am wasn't too shabby!
I definitely surpassed my expectations for myself and I'll not forget my eagle on 16 in a hurry.
The Renaissance was great (it reminds me a bit of Turnberry) and the company was good. Vernon Kay and the singer Sam McTrusty were the other non-golfers and Eddie Pepperell was as impressive a player as I thought he would be.
Having played with Brooks Koepka in the past, Eddie is a totally different type of person.
Eddie isn't the sort of golfer who will spend hours on the range like Brooks. He's so laid back and is obviously really comfortable with his game just now.
By the time we'd finished our round the course was absolutely perfect for the pros. It's no surprise that there have been some really low numbers on day one.
I told Eddie that I've got a good record of my pro-am partner going on to win majors, with Brooks and Brooke Henderson.
So I might put a couple of pounds on him lifting the Claret Jug in Portrush!