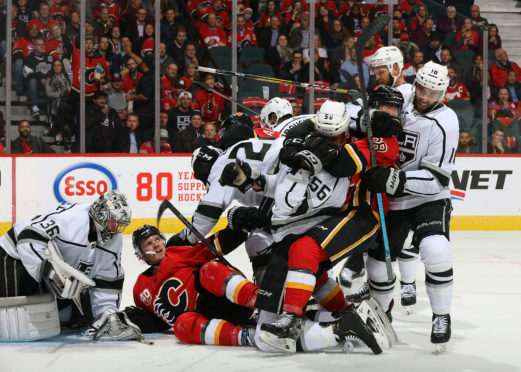 We're back out in Canada for our second three-week mini tour of the season.
All three events have got strong fields so we'll have to build on our positive form of the last trip and some good practice back home to get the performances and results we're looking for.
The big guns are prepping for the first grand slam of the season, which is the last of our three tournaments.
We've had a couple of days to get acclimatised this time and we got some last minute tickets for NHL ice hockey game here in Calgary the other night.
I'd been to a couple of games before which were pretty one-sided but this one had lots of drama.
It was Calgary flames v Los Angeles Kings and the away team won in overtime after being 3-0 down.
I can also now say I've seen my first proper ice hockey fight…..helmets off and everything!
* It's an important week for us out here but even bigger for the men back in Perth.
A three-way play-off to qualify for the European Championships is real pressure.
It will come as no surprise that I'm supporting my two brothers but it really is a hard one to call between Teams Mouat, Paterson and Muirhead.
Whichever team wins will know they're in good shape for Sweden next month.
* It comes as no surprise that Neil Black is stepping down from his performance director role with UK Athletics.
There was no hiding place after Alberto Salazar's ban and Black's use of him as an adviser.
Unfortunately the damage has been done and that black cloud hanging over the sport won't be blowing away anytime soon.
* Talking of blowing away, let's hope that typhoon doesn't turn out to be as bad as feared and that it passes through Japan before Sunday.
It seems ridiculous that after four years of planning (probably more actually) there hasn't been a contingency put in place to avoid Scotland (or anybody else for that matter) getting knocked out of the competition for anything other than sporting reasons.
It would be particularly cruel as it looks like the team has found something and is going to peak at the right time.