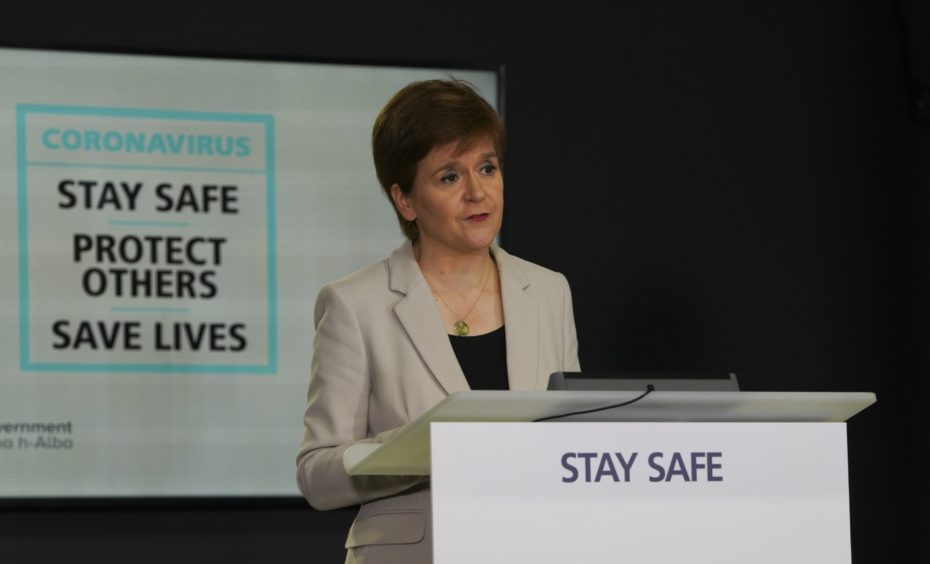 Nicola Sturgeon's daily Covid press briefings have done her good.
Despite her government's many failings in its handling of the coronavirus crisis, she personally has had a successful pandemic.
Her approval ratings have been consistently high and now her separatist cause is showing majority support in the most recent (Panelbase) polling.
No wonder opposition politicians, such as Labour's Jackie Baillie, have called on the BBC to limit the First Minister's televised appearances, which are akin to party political broadcasts but in a one-party contest.
Just imagine the outcry from Scottish Nationalists if it had been the Tories, or even Labour, in the hot seat for the past four months with all that unrivalled exposure.
So ubiquitous has Sturgeon been, that the opposition has had few opportunities to land a punch and the only real pressure she has felt has come from the press, most notably over the schools fiasco.
If voting intentions in the new poll – which put backing for independence at 54 per cent compared to 46 per cent for the Union – were mirrored in next year's Scottish elections, the SNP would win an overall majority, with 74 out of 129 seats.
The clamour then from Yes activists for a second independence referendum would be deafening.
It is without doubt a wake-up call for Unionists. However, on the bright side (for those of us who shudder at the prospect of Nationalist armageddon) there are still 10 months between now and the Holyrood elections.
There is no chance of a new plebiscite before that date and there is a lot that can go wrong for the Nationalists.
Diehard separatists won't blame the SNP when the economy nosedives but marginal voters who today applaud Sturgeon may think differently when they lose their jobs and their businesses.
In her determination to seek grievances against Westminster, she has stretched the lockdown for Scotland's hospitality, tourism and retail sectors while they open elsewhere in the UK, and effectively put up the 'Closed' sign at Scotland's borders with her threats of quarantine.
While she has belatedly condemned the bunch of racist vigilantes trying to turn away English visitors driving into Scotland, such scenes are a stark reminder of the divisiveness of the constitutional 'debate' in this country.
The Yes movement in 2014 floundered for many reasons, not least the collapse of its economic argument.
The Nationalists are going to find the economy an even more challenging obstacle this time round, in the wake of the coronavirus.
Some 800,000 Scots have benefited from the British chancellor's job retention schemes and it is up to Unionist politicians to point out the obvious: Scotland, with its tiny tax base, could not have afforded such generosity.
Nor could we bail out our own arts sector, as Rishi Sunak has promised to do, with £97 million destined for Scotland as part of his rescue plan for theatres, concert halls, galleries and museums.
When people are confronted with an actual ballot paper, instead of an opinion poll, perhaps some of these realities will kick in.
But long before we get to that moment, if we ever do, the SNP has one other mighty block in its road to independence: Alex Salmond.
The Panelbase poll might have given Unionists sleepless nights, but seeing Sturgeon's ratings soar will have caused far more anguish among the foes in her own party – and there are many.
Another poll, published by a pro-independence blog, has shown that nearly half of Yes voters said they would either definitely or probably vote for a party led by Salmond.
The past few months have kept the SNP's warring factions relatively quiet but we can be sure that full hostilities will resume as soon as the public's health is not the overriding priority.
Picking up where they left off in March, Salmond and his cheerleaders – who include former Scottish justice secretary Kenny MacAskill and Nationalist MP (and possible future leadership contender) Joanna Cherry – will renew their fight to reassert his hold over the party.
Remember how he stood outside the High Court in Edinburgh, following his acquittal on sexual assault charges, and vowed that a political plot to discredit him would 'see the light of day'?
That day will come soon, with a parliamentary inquiry beginning in August that will look into his allegations that SNP figures fabricated the claims against him.
Both Sturgeon and her husband, Peter Murrell, who is also the SNP's chief executive, have been ordered to give evidence under oath.
Whatever she has put up with from opposition MSPs will seem like child's play once the fury of the Salmond camp is unleashed.
It's going to get ugly and if the Nationalists couldn't convince Scots to back independence when they were a cohesive one-message machine, they should not get their hopes up now.