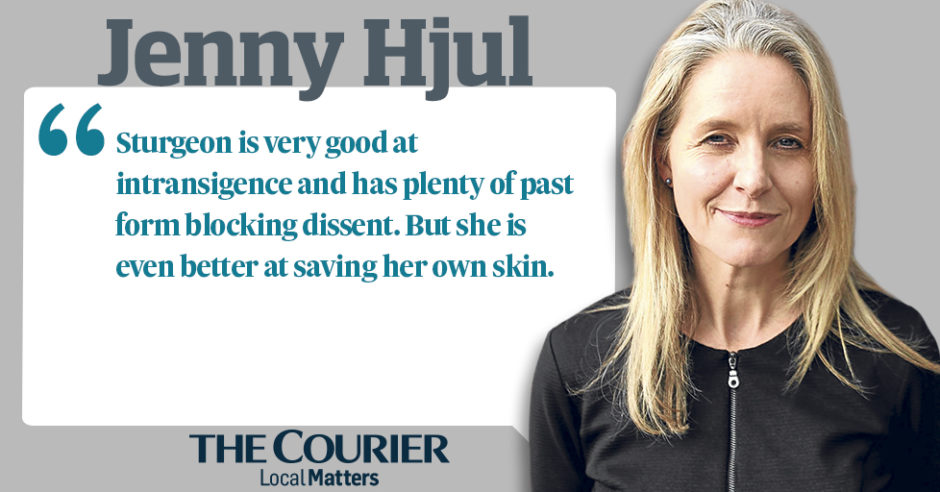 If proof were still needed that Scotland's Nationalist government was interested only in its own wellbeing it came this week with the First Minister's fulsome 'sorry' over the exams debacle.
Although she insisted 'a lot of soul searching' had gone into her decision to address the shambles of last week, when thousands of children across the country had their hopes dashed by the SQA, we can be sure that her penitence is, as usual, purely political.
The replacement of actual exam grades with teachers' assessments left scores of pupils with lower marks than expected, and even fails, after the SNP's flawed 'moderation' process.
In particular, poorer youngsters were hit by the system, which gauged predicted performance on a school's historic record, as well as on individual students' efforts.
Higher pass rates for those in the most deprived catchment areas were reduced by 15.2%, compared to 6.9% for pupils from the most affluent backgrounds.
When the results were announced a week ago, Sturgeon and her education minister, John Swinney, spent several days defending them, arguing that they represented a 'valid' overall picture.
They faced down criticism from a range of education experts, as they had when the Scottish parliament's education committee warned about the pitfalls in the SQA's methods.
Sturgeon is very good at intransigence and has plenty of past form blocking dissent. But she is even better at saving her own skin.
So, when the protests over the exams showed no sign of abating and, in fact, looked like ending the career of Swinney, with cross party support growing for a Labour no-confidence motion, she executed an immediate about turn.
In her briefing on Monday she accepted that her government 'did not get it right' and promised that Swinney would set out steps to fix the mess, which he tried to do yesterday.
The complaints about the government's handling of the fiasco will rumble on but it seems Sturgeon has averted another schools related popular rebellion.
This time, it was children themselves who took to the streets, with a march in Glasgow on Saturday spelling out how badly misjudged the SNP's policy had been.
Young people in the Nationalist heartlands accusing the government of destroying their chances of higher education, with 'outcome not income' placards, was not a good look for politicians due to go to the polls in less than nine months.
A couple of months ago, it was parents who revolted when Swinney let slip his plan to keep schools partially closed until 2021.
Then, as now, he had to eat his words when his boss realised the damage being done to their cause. Now the Nationalists talk about their commitment to re-opening classrooms this week as if it was all their idea in the first place.
Sturgeon has retained high ratings throughout the Covid crisis, and in the eyes of her loyal fan base she can do no wrong.
However, even the most committed Nationalist voters, who will forgive her almost anything, including her disastrous management of care homes during the pandemic, quail when their own children's futures are at stake.
As soon as she measured the extent of the fury, much of it from Nationalist constituencies, she made a rapid calculation: a humiliating apology was a small price to pay to keep the independence bandwagon on the road.
If she and her team had been focused, since gaining power more than 10 years ago, on education instead of breaking up Britain, the attainment gap between rich and poor kids might have been narrowed by school reforms, as it has been in England.
Then the most disadvantaged children would not automatically have been consigned to the educational scrapheap by politicians such as Sturgeon who had pledged to make education her priority.
Now we can see that her only priority is winning the election in May, as comfortably as possible, so she can claim a mandate for a second independence referendum.
The last thing she wants is an inquest into the 2020 exams downgrades dragging on towards next May and casting doubt on her ability to govern.
The mock sincerity with which she heralded her climbdown was brazen even by her standards, but it will possibly bring back on board many voters currently distraught over their children's disappointment.
What we will be left with, though, is a government that refuses to devote intellectual resources to potentially life changing issues such as education because its sole concern is constitutional upheaval.
As we head towards polling day next spring, the impression is of a party that will court popularity at the expense of any attempt at serious governance.
Did Swinney ever believe in the statistical exams model he helped devise? Did Sturgeon? Does it matter? Political expediency is the name of the game and any means will justify the Nationalists' ends.