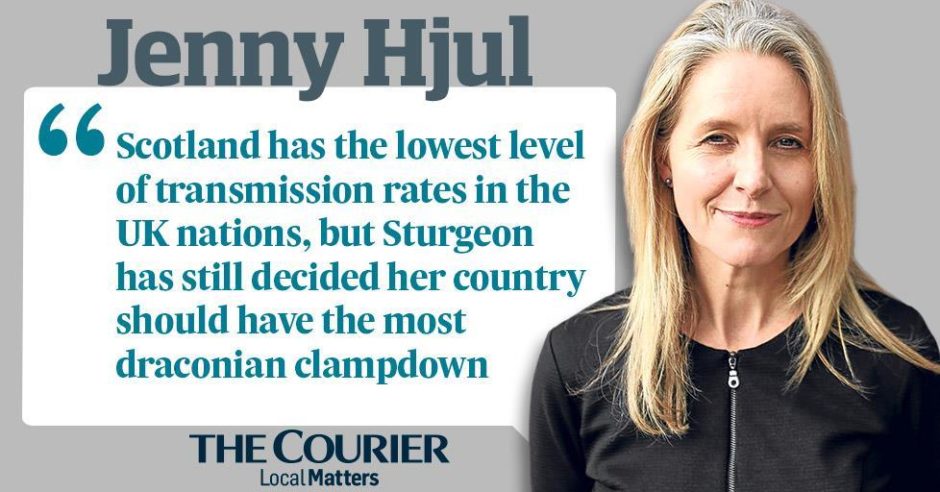 One of the first MPs on his feet in the Commons on Monday following the prime minister's announcement of further Covid restrictions in England was Ian Blackford.
The SNP member for Ross, Skye and Lochaber was making a point about financial support for those hit by the measures, and demanding that "the Tories must…do the right thing". However, his own constituents have been hammered not by Boris Johnson's latest curbs but by those introduced by Nicola Sturgeon last week.
These include banning the sale of alcohol indoors at all hospitality venues and enforcing a 6pm curfew across most areas, regulations that have hit the food and drink sector hard. The rules are even stricter in the Central Belt, where there are more cases of coronavirus, but even in the Highlands and islands, many people's livelihoods are under renewed threat, despite the very low levels of disease.
Highland council had just 14.4 recorded Covid cases (or, more accurately, positive tests) per 100,000 of population at the end of last week, government figures show.
This compares with, say, London rates per 100,000 of between 52.98 (Bexley) and 130.8 (Richmond), and yet people in the UK capital have far greater freedoms than any Scot, including those who live in places almost clear of the virus.
Scotland, in fact, has the lowest level of all the UK nations in transmission rates, as Sturgeon herself said on Sunday, but she has still decided her country should have the most draconian clampdown.
Scottish hotel bosses warn of a damaging drop in their revenues and the loss of thousands of jobs under the current diktats. Hoteliers from Ayrshire to Edinburgh have reported cancellations, with one manager saying: "We are talking about trying to survive, not about profitability." In Skye, the award-winning chef/patron Calum Montgomery expressed his frustration on Twitter: "Day one of new restrictions: Guests having dinner with us take a 10-minute break between courses to enjoy a bottle of wine they had ordered in their room. Can still drink all they like upstairs, but not in the restaurant. Good on them, I'm glad they did. This situation is nuts."
Montgomery can expect little sympathy from his MP, and nor can the residents of the Western Isles, where there were only 11 cases at the end of last week.
Their MP, Angus Brendan MacNeil, like Blackford, has much to carp about in the Commons but he hasn't bothered to question the SNP leader's infringement of his voters' liberties.
The science is divided
Whatever Sturgeon's reasons for adopting a harder line here she should be made to spell them out. We have seen nothing like the northern uprising, where mayors and local council leaders, from Manchester to Bradford to Middlesbrough, have refused to comply meekly with Johnson's policies, demanding to see the scientific evidence that ruinous lockdowns save lives.
In the government's backbenches, too, a significant revolt from Tory MPs has forced the PM to account for his haphazard approach to the pandemic and submit any new strategy to parliamentary scrutiny.
In the first 50 minutes of questions after he unveiled his three-tier system on Monday, all but two Tory backbenchers were either sceptical or openly hostile, according to reports. No chance of such a dissection here.
Yet scientific opinion is divided on the best way to tackle Covid – to continue to try to suppress it and pay the price or to learn to live with it, as Sweden has proved is possible.
It is still rare to hear arguments against the official line because most mainstream broadcasters, but the BBC in particular, remain apparently brainwashed by the government's fear agenda.
But there is a powerful business lobby, led by Dame Carolyn Fairbairn, director general of the CBI, who has called on the government to "show its workings" to the hard-pressed hospitality trade and its supply chain.
And with the clout of cross-party political objections in England, there is at least now a healthy debate south of the border about how to best handle the virus.
What has happened to the discourse in Scotland? Our business and trade bodies need to be more robust in standing up for the people they represent, hold the first minister's feet to the flames and challenge her assertions.
Sturgeon is threatening even tougher restraints on an economy already buckling faster than the rest of the UK's under the strain of Covid. While England's local leaders defend their communities against Tier 3, Scotland looks doomed to endure Sturgeon's Tier 4.