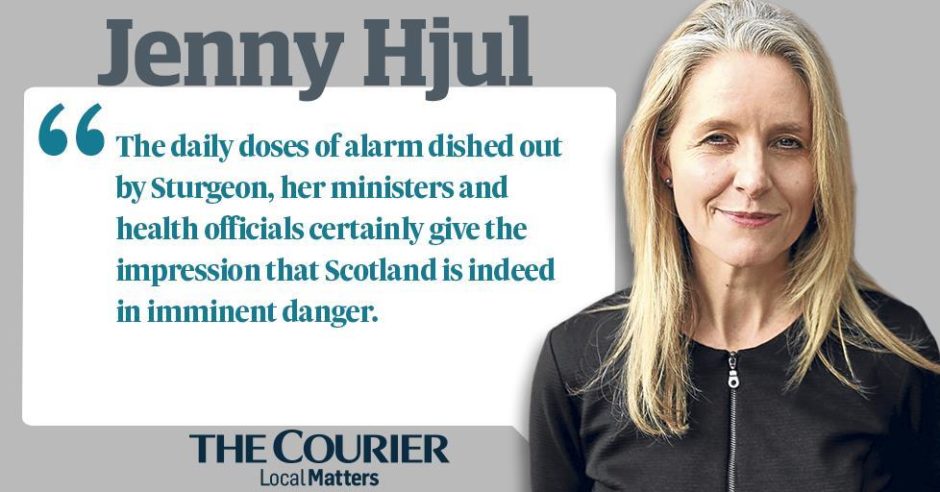 Dundee has been put on alert that it faces stricter, tier three lockdown measures as Covid transmission rates in the city give the government "cause for concern".
This would shut down most of the hospitality trade and effectively confine people to their own households, as it has done in the central belt, which saw harsh local restrictions imposed more than two weeks ago.
Under Nicola Sturgeon's new five-tier system, to be implemented from November 2, such drastic action is deemed necessary where there is a "threat of the virus running out of control", with such steps "kept in place for so long as that remains the case".
The daily doses of alarm dished out by Sturgeon, her ministers and health officials certainly give the impression that Scotland is indeed in imminent danger.
At the beginning of the week, a further 1,122 people had tested positive, which is 7.1% of those newly tested, and sadly one more person had died. Some 1,052 patients were in hospital with confirmed cases and 90 were in intensive care.
So serious is the situation apparently that Christmas has all but been cancelled by Scotland's national clinical director, Jason Leitch, who advised Scots last week to prepare for digital celebrations.
And on Monday, John Swinney, the education minister, had more bad news for students, who have so far this term endured being locked up in their halls of residence and forced to plead with passersby for food (and drink).
Now, said Swinney, there is a "realistic possibility" they could be made to stay in their university accommodation over Christmas if the coronavirus is not contained.
These dire warnings come with lashings of head-on-the-side sincerity and a we-really-wish-we-didn't-have-to-do-this-to-you tone of regret.
What is typically absent, though, is any proper context for the government's unbroken narrative of doom and gloom.
'Clobbered with life-deadening curbs'
Sturgeon did acknowledge on Monday that the increase in cases nationwide was slowing, but she did not offer any note of optimism as a result.
Before Dundee gets clobbered with the life-deadening curbs currently inflicted on Glasgow and Edinburgh and their environs, it might want to look more carefully at those concerning figures.
According to Public Health Scotland, in NHS Tayside, which includes Angus as well as Dundee (the new five-tier structure will be applied by council rather than by health board), the rate of positive cases per 100,000 people over the seven days to October 25 was 97. I make that 0.097%.
Even in Dundee alone, where there were 178.8 positive 'cases' per 100,000, which is still just 0.178% of the population.
Bearing in mind that positive tests do not correlate with hospital admissions, and that the vast majority of Covid cases are symptom free, is that a figure likely to overwhelm NHS capacity in the area?
If not, then how can the virus be running out of control, in Dundee or anywhere else in Scotland, where even the highest rates (in NHS Greater Glasgow and Clyde) are only at 244.4 (or 0.24%) and dropping?
Discouraging people
The government's motives for withholding information are unclear, but by blurring the wider picture they discourage people from questioning their Covid strategy.
Secrecy is endemic in this SNP administration, the key to its grip on power; the fewer people in the loop, the easier it is to maintain authority.
In England, Nottinghamshire has become the latest area to be put under tier three (the top level south of the border) restrictions. This follows lengthy discussion with local leaders.
Other English regions have had their own dialogues with central government before they have been subjected to lockdowns. Often disputatious, they are at least talking.
In Scotland, Sturgeon has refused to hand town halls a formal role in setting restrictions, prompting Aberdeen's council leader to compare dealing with her regime over lockdown to talking to a "Soviet state".
Yet, when freedoms are further curtailed, the cost to the local economy is ruinous, as Dundee may soon discover.
Edinburgh's jobless rate is tripling; in North Ayrshire one in 10 is unemployed. Shop closures have doubled across Scotland and Universal Credit claims have doubled too.
Trusted with the truth
In return for the sacrifices they are making, Scots deserve to be trusted with the truth.
As well as total transparency about the reasons for entering tier three, the government must define exactly what the exit criteria is, as Dundee and Angus businesses are now demanding.
At the moment, so-called temporary measures in Scotland are proving to be permanent, robbing people not just of their liberty but also of any hope for the immediate future.
There must surely come a tipping point when public acceptance of the unacceptable turns into resistance.
Rebellion will inevitably follow if there is a suspicion that we're doing all this for nothing.