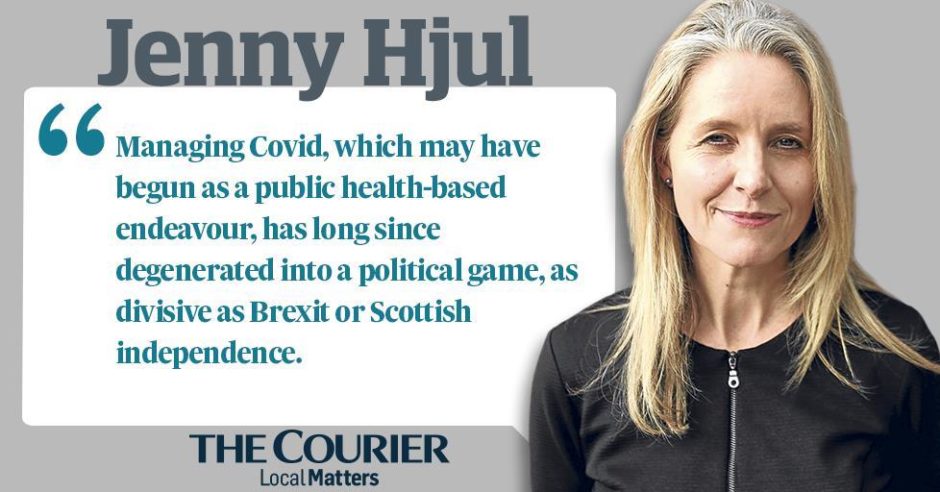 The politics of the pandemic reached a new low this week when Scotland's first minister threatened a nationwide lockdown that even she admitted was unnecessary, if she didn't get her own way with Westminster.
On the day her much-heralded (by her) five levels of restrictions were introduced in Scotland, she was already contemplating ditching them, not to "save more lives" but to get even with Boris Johnson.
Admittedly, it was the UK Treasury's fault for dithering over whether furlough money promised to England in November would be available to the devolved regions if they opted for their own total shutdowns later on.
Had the package on offer in the south been pledged immediately to Scotland to use if, and when, Nicola Sturgeon would not have had at least a day to exploit a (legitimate this time) grievance against London.
But basing a decision on whether to plunge Scotland back into draconian March-like measures on furlough funding, rather than virus criteria, exposes the sham that this SNP government is acting in the country's interests.
It also begs the question how would an independent Scotland cope with such a crisis if its every move is so dependent on the largesse of London.
Sturgeon has been playing politics over Covid from the moment, back in the spring, that she opted to abandon the four nations approach and create a Scottish solution, even though the progress of the disease has not respected national boundaries.
It should come as no surprise that she pursued her Scottish exceptionalism to its logical conclusion, calling with barely disguised glee for the borders to be closed when the English lockdown was announced.
Mileage out of misfortune
But she is not the only politician to make mileage out of Britain's misfortunes this year. Labour leader Keir Starmer became an overnight lockdown convert last month in a cynical ploy to capitalise on the PM's mishandling of Covid.
Even some of Starmer's own MPs described his break with the consensus as political opportunism, but it pales beside the blatant attempt by the country's foremost political opportunist, Nigel Farage, to resurrect his career this week.
On Monday, we learned that he is to relaunch his defunct Brexit Party as Reform UK, on an anti-lockdown platform that will campaign for an alternative Covid strategy.
While any discussion on coronavirus policy is to be welcomed, Farage's entry into the arena is not, as it will give ammunition to those who fear it is only right-wing nutters who are against the current orthodoxy.
Baffling political synergies
Covid has forged baffling political synergies, with Europhiles who now want to pull up the drawbridge on the same side as the ministers most in favour of removing our personal liberties, our human rights and our livelihoods, who are, by any definition, on the right.
Michael Gove, one of the "quad" (which includes the prime minister, Chancellor Rishi Sunak and Health Secretary Matt Hancock) driving the government's response to Covid, is known to be fiercely pro-lockdown.
Johnson himself is a pro-Brexit Conservative, who since discovering that "libertarian" was a pejorative term has deployed the politics of obfuscation to impose internment without trial on England.
More "inherently left-wing", in her own words, is Professor Sunetra Gupta, the Oxford epidemiologist who, she claims, has been made an academic and media pariah for daring to challenge the official science.
Yet all she questions is the wisdom of trying to suppress an ineradicable virus instead of trying to find a way to live with it.
"Ultimately, lockdown is a luxury of the affluent," she wrote recently. "Something that can be afforded only in wealthy countries – and even then, only by the better-off households in those countries."
Drastic decisions in our name
Radical indeed. Arguments like Gupta's should not be seen as polarising but anyone demanding frank debate or actual data rather than propaganda is dismissed as toxic.
Drastic decisions are being made in our name on "evidence" that is either out of date, exaggerated or withheld altogether – why did Chris Whitty and Patrick Vallance's doomsday projections not show that cases in hard-hit Liverpool, for instance, were down by nearly a half from their October 7 peak?
The government is manipulating public fear to get its own way, said the retired Supreme Court judge Lord Sumption in a lecture last week. Perhaps he is right. Managing Covid, which may have begun as a public health-based endeavour, has long since degenerated into a political game, as divisive as Brexit or Scottish independence even if the partisan alignments are different.