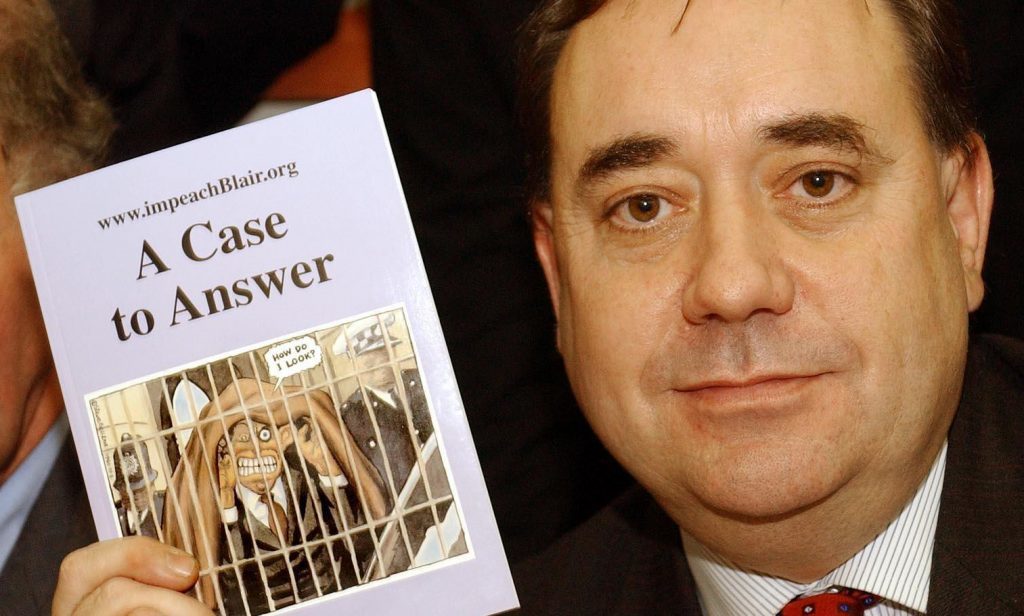 You wouldn't think there'd be anything to match the current hysteria enveloping the Tory party at Westminster but Alex Salmond has managed it.
Never one to shy away from creating a drama out of a crisis, the MP and former leader of the SNP has surpassed himself in silliness with his latest outburst against Tony Blair.
Today, the very belated Chilcot Inquiry is due to deliver its verdict on the decision by the former Prime Minister to take Britain into a war with Iraq in 2003.
Although there was widespread public support for the-then Labour government to remove the brutal Iraqi dictator Saddam Hussein, the reasons for going to war, the conduct of that conflict and its aftermath have destroyed Blair's legacy.
The Chilcot probe was launched by his successor at Number 10, Gordon Brown, in 2009 and there has been much clamouring for Blair's head on a plate ever since.
Leading this vendetta is Salmond. His "personal animus" (his own words) towards Blair is born perhaps out of jealousy, or perhaps because the then PM didn't call to congratulate him on becoming First Minister in 2007.
Who knows? It certainly looks like an obsession and one that increasingly clouds his judgment.
In this exclusive video recorded for The Courier, Salmond says he believes the attempt to oust Jeremy Corbyn is nothing but a Blairite plot.
This fanciful notion, that the 172 Labour MPs who have backed a motion of no confidence in Corbyn are motivated by loyalty to Blair, was put forward by Dennis Skinner.
The octogenarian Labour left-winger has a well-earned reputation as a parliamentary maverick but such a conspiracy theory is bizarre even by his standards.
Corbyn, by any sane reckoning, has been a disaster for the Labour Party. You don't even have to watch his performances in Parliament or his lack of leadership during the EU campaign to dismiss him as easily the worst leader the party has ever had.
In Scotland, a poll after the May election found that more than 70% of Labour members thought their leader was doing a bad job.
No wonder – they had just forfeited second place in Holyrood to the Tories.
But never mind that. Salmond believes Skinner's claim that the right of the Labour Party is marshalling its forces to destabilise Corbyn because of Chilcot. Corbyn is to be feared, not because with him as leader the Labour Party will never win another election but because he has vowed to destroy Blair.
Watching the video, which shows Salmond as elder statesman, perched on a desk and talking to the camera, one is reminded of the Herbert Lom character in the Pink Panther films, whose irrational hatred of Inspector Clouseau drove him mad.
How will the SNP veteran react when, as is perfectly possible, Chilcot does not censure the man who won three successive victories for the Labour Party?
Salmond, who has already found Blair guilty, would like him to be tried in the International Criminal Court (ICC) for starting a "war of aggression" but acknowledges the court lacks jurisdiction for such a crime.
He would settle for impeachment, a procedure to put someone on trial before the House of Lords that has not been used since 1806, or dispatching Labour's most successful politician ever to a Scottish court.
The only option the MP for Gordon will not entertain is the one in which Blair is let off the hook. But that is the outcome that the rest of us should hope for.
Love or loathe him, as our democratically elected Prime Minister it was his job to weigh up the situation in Iraq at the time and respond accordingly. No British premier acts in a vacuum and Blair would have listened to advice from his security chiefs and defence staff, as well as to Britain's chief ally, America.
Choosing to go to war was not the gung-ho whim of an uninformed crackpot but the considered course of action of a man well versed in the facts.
If he got it wrong, history will judge him harshly but from where we are now, it looks like the cause of the problems in the Middle East lies within the region not outside it, as Blair himself argued.
Corbyn, in politics for decades without achieving anything and Salmond, who lost the most important contest of his career and has never regained the political momentum, have little understanding of the real torments of a real leader.
Whatever Chilcot's conclusion, British prime ministers will continue to make the case for or against military interventions and continue to take the flak.
In baying for Blair's blood, his principal detractors may feel significant for a few days but they do not shape the future – and for that we should all be thankful.