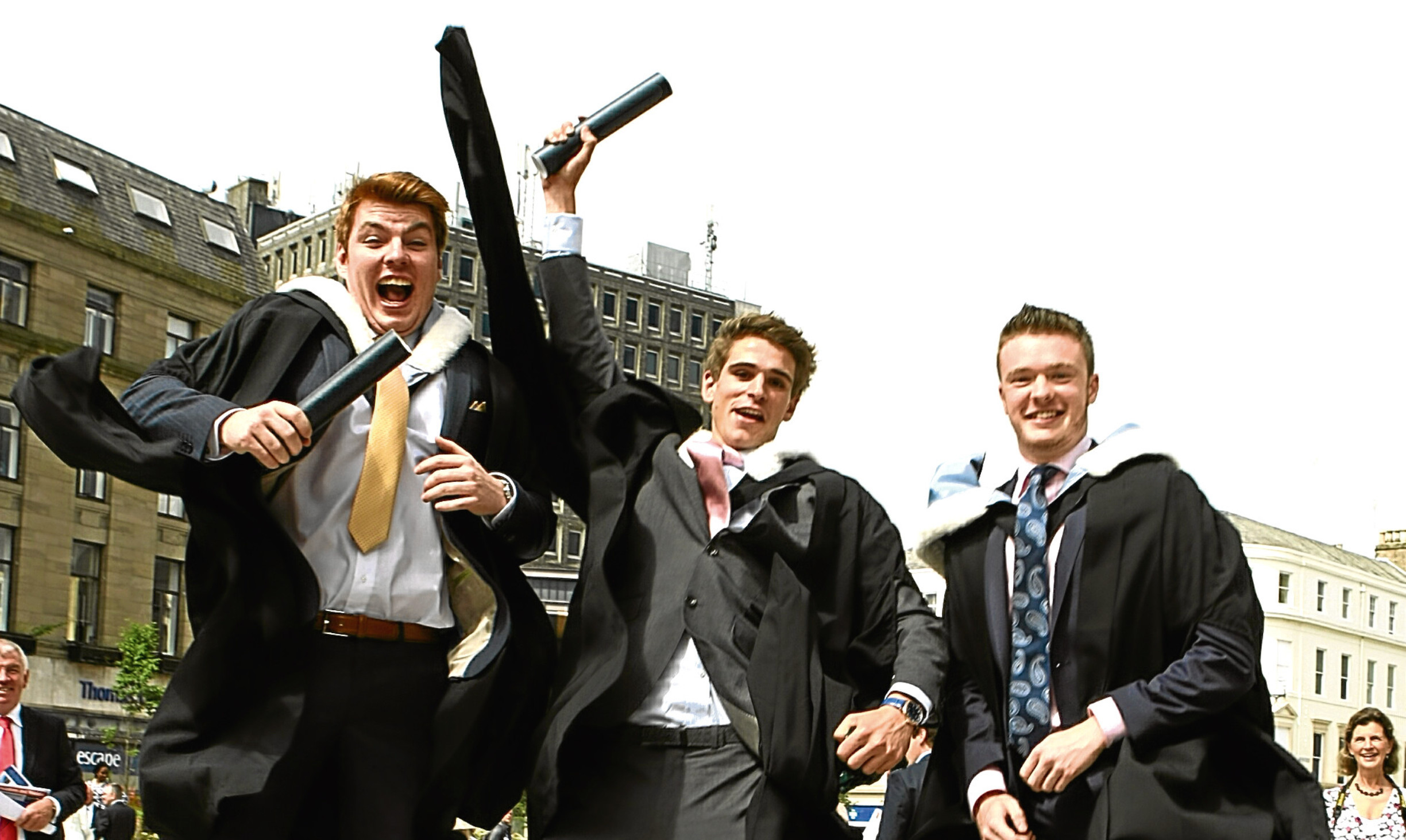 August is the month for exam results and therefore the month for stories about exam results.
In Scotland, these are invariably good news stories because the education narrative is not allowed to be anything but positive.
Sure enough, a Scottish Government spokesman could be found this week trumpeting the record number of Scottish students securing places at university, when Ucas, the admissions body, published its latest data.
Shirley-Anne Somerville, Scotland's higher education minister, said the number of Scottish applicants accepted to universities north of the border was up four per cent this year.
Missing out
What she failed to mention was the much bigger percentage of Scottish applicants who have missed out on places – a figure that has almost doubled in the last decade.
In fact, the admissions situation in Scotland favours English and other fee-paying applicants above their Scottish counterparts, potentially a cause of acute embarrassment to the Nationalists, if they weren't in denial.
It is as a direct consequence of their much-heralded free tuition policy that increasing proportions of local students are missing out on a university education.
The number of Scots who didn't get into higher education institutions in 2006 was 8,625 but this had risen to 16,520 last year.
According to Audit Scotland, there has been an overall drop in the number of Scottish teenagers attending Scottish universities in the past 10 years.
Such is the cost of providing free tuition that ministers have had to put a cap on the number of places allocated to non-fee-paying Scottish and EU (but not the rest of the UK) students.
While more Scottish children might apply for university, the cap has not kept pace, so more and more are losing out.
The system is tilted against Scottish applicants and even the clearing process – which sees youngsters scrambling for places to match their grades – works in favour of English students.
This year, Edinburgh University reportedly had just one course for Scottish clearing applicants compared to 130 for English.
Aberdeen University was offering clearing places on one course for Scottish students and 79 for English, while Glasgow University was offering five for Scots kids and 497 for those from the south.
In England, institutions, which can charge up to £9,000 a year for degree courses, lifted the cap on places last year and record numbers have subsequently been admitted.
The university umbrella group, Universities Scotland, has blamed the free tuition policy for the high levels of Scottish students being unplaced.
Alastair Sims, its director, said: "There was hard evidence from Audit Scotland last month to show that, sadly, it is getting harder and harder for Scottish applicants to get an offer of a place at Scotland's universities.
"That's not because universities want to limit opportunities but because the number of well-qualified applicants far outnumbers the strict controls on the number of funded places that universities can fill."
The SNP saw its free tuition policy as an election winner and is unlikely to ditch it, despite warnings from within the university sector that it is unsustainable.
Dundee principal and vice-chancellor, Professor Sir Pete Downes, wrote to staff earlier this year saying a major funding shortfall will lead to cuts.
The policy has been blamed for cushioning the cost of university for middle class students while reducing financial assistance for poorer youngsters.
Scotland has a worse record than anywhere else in the UK when it comes to getting students from poorer backgrounds into university, said a report in May from the Sutton Trust, the social mobility charity.
Young disadvantaged Scottish people are four times less likely to go to university than their wealthier counterparts. In England the same figure is 2.4.
"Not only is the access gap still wider in Scotland, what progress there has been has largely been through sub-degree places in colleges," the trust said.
Bigger debts
Poorer Scottish students receive less state support than their English peers and they leave university with greater debts. English institutions spend more than three times as much on financial help for poor students, according to a 2013 study from Edinburgh University.
All these facts should force a rethink by ministers, particularly after Nicola Sturgeon made narrowing the education attainment gap between privileged and underprivileged children a priority.
Since making that pledge, though, Sturgeon has had other matters on her mind, such as whether or not to force a second independence referendum on Scotland.
Acknowledging that her country has abysmal access rates compared to the rest of the UK would be a first step towards addressing the issue.
The grandstanding of Alex Salmond – who said "rocks will melt with the sun before I allow tuition fees to be imposed on Scotland's students" – might have conned voters once but few Scots now believe that such a giveaway benefits those who most need it.