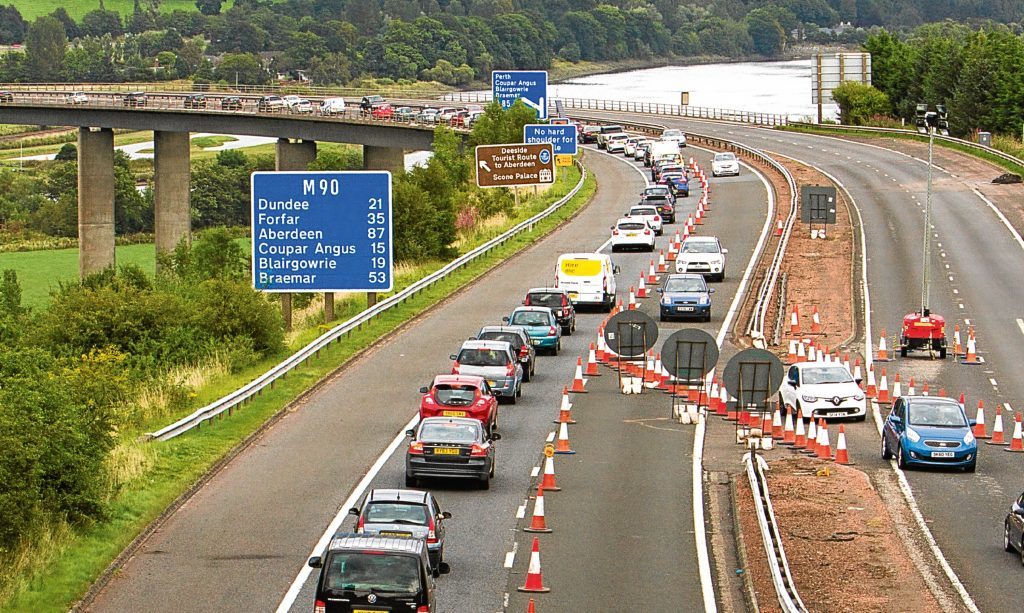 Scotland has a quango called Transport Scotland that, among other things, looks after our trunk roads. It also has BEAR Scotland, which is in charge of the road network.
Then we have OSRWC – the Office of the Scottish Road Works Commissioner, whose task it is to "work with the road works community to oversee improvements to the planning, coordination and quality of road works in Scotland".
And there is Traffic Scotland, a website that provides a "co-ordinated traffic management service for Scotland's strategic road network".
Of course, we mustn't forget the Minister for Transport (and the Islands), who since the Scottish elections in May has been Humza Yousaf.
And there is something called the Road Authority and Utility Committee for Scotland.
Every local council has a transport department and there may well be other bodies who cover roadworks.
The point is Scotland is not lacking in bureaucrats where traffic management is concerned.
It is extraordinary, then, that road chaos is a regular feature of Scottish life for anyone who lives roughly within the Central Belt or whose journeys involve motorway systems such as the M90, M73, M74 and M8.
Just last Saturday, as this paper reported on Monday, there was a major snarl-up around Perth, with traffic jams in and around the city thanks to roadworks.
Motorists were stuck in long tailbacks between the Broxden Roundabout and the Friarton Bridge, with commuters gridlocked in both directions as far back as Bridge of Earn and Kinfauns. The chaos had a knock-on effect in Perth, with traffic ground almost to a halt.
BEAR Scotland said there had been warning signs of the works but whose idea was it to carry these out on the same day as an Irn Bru Cup tie?
Drivers caught up in the jams seemed particularly annoyed that there was no sign of any activity to warrant the mass disruption.
Iain Waddell was driving from Perth to Errol and said this journey took him 90 minutes.
He told the Courier's reporter: "In that time I didn't see a single police traffic car but what annoyed me the most was that there was no work being done at this time – seems BEAR Scotland are only working during the night.
"Surely they should be working round the clock to finish this."
I can sympathise. On Sunday, driving back to Scotland via the A74 we were faced with the familiar sight of miles of contraflow and cones and unreadable diversion signs.
Accessing the M8 from this direction has long been a game of chance that can take you deep into Glasgow when you were heading for Edinburgh.
If there was some evidence that work was actually in progress, one would mind less about the resulting detours and delays (and, almost, divorce).
In England, councils and utility companies may be fined up to £5,000 for every day roadworks are left unattended, under proposals announced by the Department of Transport earlier this year.
Fines can already be imposed in the south for roadworks that overrun but the new penalties would target those who dig up busy routes and then needlessly inconvenience road users by leaving temporary traffic lights, cones and so-on in place when no one is working.
This suggests motorists' complaints are being taken seriously. In Scotland, the commissioner – or "cone tsar" – can fine roads authorities and utility companies up to £50,000 for "a systematic failure to coordinate or cooperate respectively".
However, the OSRWC says on its website that issuing penalties "will only be used as a last resort following opportunity for improvement having been given".
The tsar was supposed to crack down on shoddy or delayed work but since the post was created in 2005 only around £200,000 has been collected in fines, while the taxpayer-funded office itself is said to have cost £3 million to run.
The position was apparently vacant for five months last year and a review of the OSRWC, announced last November by then Transport Minister Derek Mackay, has yet to materialise.
It was ordered after a report by Audit Scotland showed a third of Scotland's local roads were in poor condition and there had been no progress since a previous report four years earlier.
A quarter of the country's motorways are in need of constant repair and the situation is likely to get worse with the squeeze on public spending.
The SNP will almost certainly blame all this on Westminster but transport has been devolved since 1999 and in the Nationalists' hands since 2007.
It's time they got a move on but don't expect anything to happen any time soon.
Our political leaders' minds are preoccupied with higher matters than driving woes and transport – like other areas of domestic policy – will remain at a standstill while they are in power.