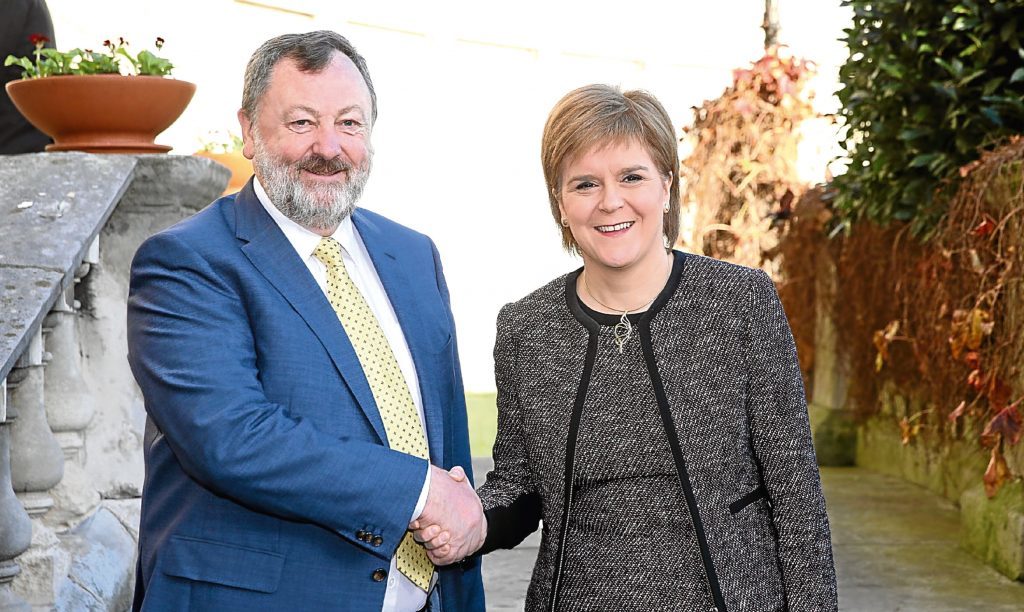 Scotland has a close ally on its doorstep with which it shares deep historic and cultural bonds, not to mention lucrative economic ties.
However, it is called England and while the Nationalists are in charge it is the one country we cannot be seen to be cosying up to, particularly post-Brexit.
Hence the SNP's quest for new friends in Europe continues. This week the search has taken Nicola Sturgeon to Ireland, where she hopes to build on "the links between our people" and "discuss how we can work together to protect and strengthen our shared interests".
Pleasantries no doubt will be exchanged and the hospitable Irish will probably make our First Minister welcome.
But politically she is likely to return home as empty handed from this trip as from all the others she – or her hapless ministers – have embarked upon.
No support
The problem is that the SNP objective, to use Britain's exit from the EU as a trigger for independence, has no support in Europe.
Despite anger within the EU over the UK referendum result in June, there is no corresponding sympathy for Scotland's position, which is less about securing a good outcome for Scots than driving divisions in the Union.
If Sturgeon thought she could use various EU member states to further her separatist agenda she was naive in the extreme, or very badly advised.
If it has been her Brexit minister Mike Russell doing the advising, this is not surprising. Despite a reasonably sized brain (by his own reckoning anyway) he was out of his depth in the education portfolio and is completely at a loss over Europe.
He managed to embarrass not just himself but Scotland too when he was caught trying to pull the wool over the eyes of Brussels diplomats recently. Five million Scots, he told them, voted to stay in the EU, when the figure was fewer than 1.7 million.
He also gave the impression that discussions were ongoing with Spain over a special deal for Scotland: "We would not be talking in these terms unless we were having conversations," he boasted.
But this was refuted by the Spanish government, which doesn't want to encourage its own separatist movements by backing Scotland's.
The Spanish Prime Minister said in June that Scotland would have to leave the EU with the rest of the UK and that country's foreign affairs minister and the leader of the Spanish delegation of MEPs in the European Parliament have subsequently dismissed the Nationalists' claims.
The Norwegians have also dampened SNP hopes, with trade minister Monica Maeland telling a meeting in Geneva recently that Scotland could not join the European Free Trade Association, to which Norway belongs, because it is not a sovereign state.
Then Carwyn Jones, the Welsh First Minister, told Sturgeon her plans for Scotland to be in the single market were unworkable.
Before she'd even begun her Dublin venture, the Irish government's international development minister reportedly said there would not be direct talks with the Scottish government over Brexit. And the former prime minister of Ireland, John Bruton, said the Nationalists' goal was "technically, administratively and politically nearly impossible".
Given this overwhelming European consensus that Scotland cannot extricate itself from the UK stance on the EU, you would think Sturgeon and her team might back down. But no.
Relationship
Even the fact – and it is a fact – that Scotland is best served by retaining her relationship with the rest of the UK is negotiable.
Nationalist Dundee MP Stewart Hosie, who is (incredibly) the party's economic spokesman at Westminster, told BBC Radio Scotland last week that "most of Scotland's exports go to countries which are currently in the European Union now as it includes England for the time being".
He couldn't quite deny the official figures which show exports from Scotland to the rest of the UK are worth £48.5 billion while those to the rest of the EU are worth £11.6 billion – but he had a good try.
It is obvious to everyone, except those in the SNP government, that Scotland's attempts to mount a separate exit strategy are doomed.
There have been people offering advice to Sturgeon, some within her own party, about dropping her unrealistic Euro mission and focusing instead on making the case for Scotland on specific issues, such as farming and fisheries. But she won't listen.
To cap it all, on Sunday we had the unedifying spectacle of Fiona Hyslop, Scotland's external affairs secretary, laying into her BBC inquisitor when he suggested the SNP's diplomatic offensive had been a failure.
"I think you're the one being offensive in what we're trying to do here," snapped Hyslop. "You're not understanding where we are in the process."
She insisted that talks were taking place behind closed doors with European countries including France and Italy.
Has anyone told them?