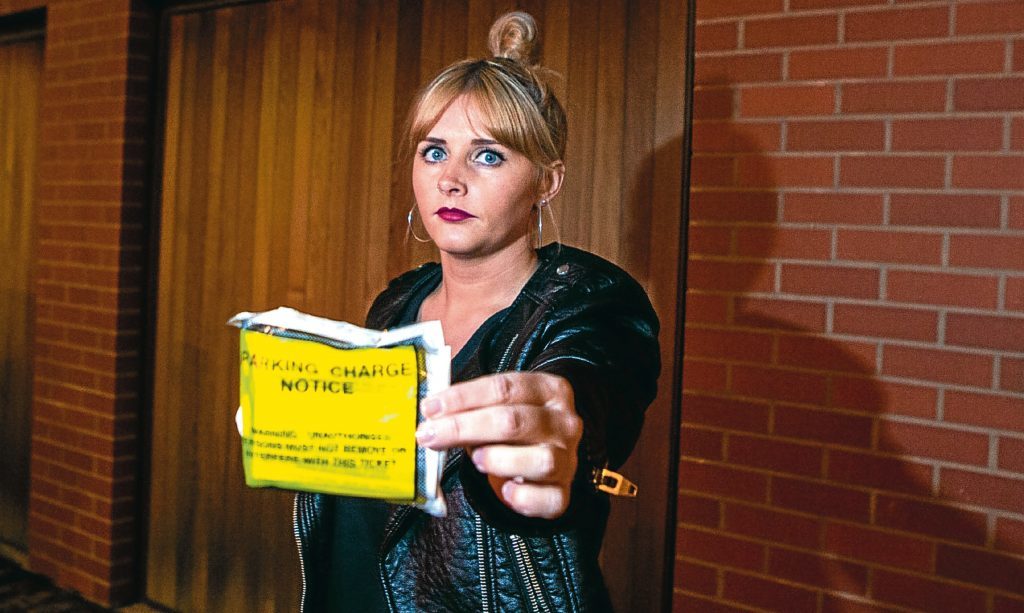 Dundee has hit the national headlines after one of its residents incurred what is believed to be the UK's biggest ever parking fine.
At 28, Carly Mackie must find £24,500, or she will be charged interest at 8% a year until the debt is settled.
How she pays the penalty, though, is not the point. Whether she deserved it is the question on most people's minds.
Legally, she doesn't seem to have a leg to stand on. The fine was issued by a private parking agency, Vehicle Control Services and the rules are plain enough, despite much online advice to the contrary.
Mackie may have believed she could escape, after she ignored the almost daily notices on her windscreen.
However, her defence, that such parking charges were illegal in Scotland, was wishful thinking and dismissed by Sheriff George Way at Dundee Sheriff Court.
Mackie had parked outside her mother's and step-father's house without a permit. According to the Citizens' Advice Bureau, in circumstances such as these, similar to a supermarket car park or a privately owned multi-storey car park, you enter into a contract with the landowner.
If there are clear signs displayed in the car park setting out rules for using it, then these are the terms of the contract. If any of these rules are broken, then the car park owner can take steps to enforce them.
As the sheriff said: "She knew perfectly well what the signs displayed and that she was parking in breach of the conditions."
Offered chances
Technically, it is hard to sympathise with Mackie. She was offered the chance to pay for a permit at £40 a month but declined and she did not challenge any of her tickets. In her situation, I expect other motorists might have worried a little more about the consequences.
However, caveats aside, I am on Mackie's side.
First of all, when she visited her family, she parked her Mini in a small space between her parents' garage and double yellow lines.
She does not appear to have caused an obstruction to other residents or taken a space they had paid for.
When drivers infringe the parking regulations in public places they are dealt with by traffic wardens, managed by local authorities. Aggravating as these rules can be, there is at least a well-established procedure and even an etiquette governing the manner in which they are implemented.
I have on several occasions challenged such tickets, sometimes successfully, when I've deemed them to be unfair.
The private enforcer, however, is not bound by municipal niceties and is at liberty to act out of spite. They allegedly have a code of conduct but too few abide by it.
In one office where I work, the landlord has stopped people parking in undesignated (unpaid for) spaces, although there is plenty of room, by digging a row of bollards into the ground.
The landscaped borders take up more room than the cars, yet as the property is private and there is no transport department for workers to complain to, he can do what he likes.
Over-zealous
At the local Sainsbury's, a non-uniformed man goes about taking pictures of the cars. Those who dare to complain get short shrift and even the supermarket manager admitted that the "warden" (employed indirectly by the retailer) was over-zealous.
When trying to park near Waverley Station recently, I was accosted before I had got out of the car by two men employed by a private firm to patrol a temporary road closure. "Over-zealous"would also be a polite way to describe their behaviour.
Carly Mackie might have felt £40 a month to park beside her family's garage was too high a price to pay (it is). We don't know all the details or whether those doing the enforcing were courteous or not.
But giving her a parking notice every time she parked there (more than 200 in total) suggests a dogged determination to punish her rather than a genuine attempt to resolve the situation.
Debt Recovery Plus, which acted on behalf of the parking company, said: "As some people in Scotland believe that parking charges are unenforceable… a record number of court cases are now being pursued in Scotland."
How many of these will be able to afford the subsequent fines? Presumably, they are not the wealthiest members of society, who are more likely to have their own drives or garages.
And how many of them will have tucked away their vehicles unobtrusively, as Mackie appears to have done, in the belief that they were within their rights?
Private parking enforcement is nearly always more a means of raising funds than keeping roads safe.
The sheriff had a duty to uphold the law but he could have exercised some human discretion and let the young woman off with a token fine.