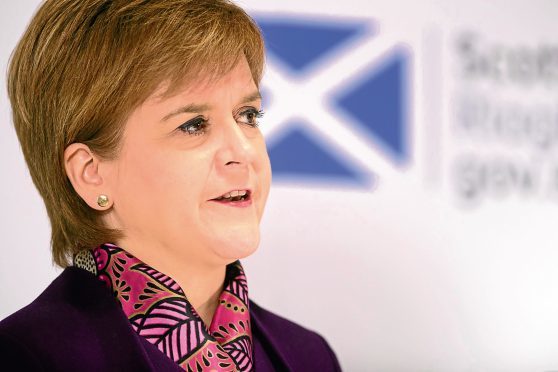 Nicola Sturgeon has been forced to apologise at least twice in the past week over her handling of the NHS in Scotland.
First, she and her health minister, Shona Robison, said they were sorry that patients were facing delays in getting treatment as the winter flu bug took its toll.
Then the First Minister had to eat humble pie again, when the Labour leader, Richard Leonard, brought to her attention the case of an 80-year-old man who had to wait more than 16 hours for medical attention.
Ms Sturgeon had just been boasting about the performance of Scotland's health service when Mr Leonard threw in his grenade at First Minister's questions last week.
The Edinburgh pensioner had hung on for more than three hours for an ambulance and spent 13 hours on a trolley. His furious son said the elderly man could have died.
Even Ms Sturgeon, adept at making bad news stories about the NHS sound like someone else's fault, couldn't talk her way out of this one.
All of which might explain her decision on Sunday, rather out of the blue, to put a second independence referendum back on the agenda.
In the midst of a largely SNP-manufactured domestic drama, any chance to change the subject must have seemed like a good idea.
So, while being interviewed by Andrew Marr over Brexit, the Nationalist leader announced she would decide on a new vote by the end of this year, once there was more clarity over the UK's future relationship with Europe. When those terms have been laid out, she will be able "to make a judgement about what I think the next appropriate steps are for Scotland".
Although we should never be surprised when a Scottish Nationalist mentions independence, Ms Sturgeon had backed away from a new plebiscite.
After the 2016 EU referendum she had been all for revisiting independence as early as possible – somewhere from the end of 2018 to early 2019. But last year's snap general election – in which the SNP lost 21 of its Westminster seats and almost half a million votes – sparked a retreat. Realising that her obsession with constitutional upheaval was not going down well with voters, she agreed to reset her referendum plans.
Now, though, we're back on familiar Nationalist territory, where everything, including a health crisis, must take a back seat to the single issue of separation.
On Monday the SNP published a paper warning of the economic consequences of a hard Brexit for Scotland. This was all part of the general strategy to use Europe as a trigger to carry on the far bigger battle, in Nationalist eyes, to exit Britain.
The fact that the economic assessment didn't even attempt to cost the price of independence suggests this was not a serious exercise in planning ahead over Europe, but yet another piece of propaganda to further the secessionist cause.
The other parties rounded on Ms Sturgeon for creating a distraction when she should be focusing on getting Scotland a good deal on Brexit. "The last thing we need is the turmoil of independence,' said the Scottish Liberal Democrat leader, Willie Rennie.
Protecting the UK's internal market – which is four times as valuable to Scotland than trade with Europe – should be Ms Sturgeon's priority, said someone from the UK Government, a little optimistically.
But perhaps of even greater concern to most Scots is the devolved administration's readiness to relegate its domestic responsibilities yet again.
This is a particularly insensitive moment for the First Minister to put party issues before the public's interests. There have been other grim examples in the past week of the failings in the NHS and although politicians can't be blamed for individual cases, their management of health will rightly come under scrutiny.
The SNP has been in charge for a decade, and Ms Sturgeon personally oversaw the NHS for many of those years. She misjudged the nation's mood last year by sidelining day-to-day matters in favour of her long-term desire to break up Britain, and she risks doing so once more.
If people were fed up 10 months ago with the SNP's record on hospitals, schools, the police and so on, how much more angry will they be now when nothing has improved and much has, in fact, got worse?
Either Ms Sturgeon is being badly advised or isn't being advised at all or, most likely, isn't listening to advice.
Linking Europe to independence hasn't worked for her so far because voters here do not, on the whole, love the EU more than they love the UK. And, as has been well documented, many Nationalists are Leavers, anyway.
Unfortunately, however, we cannot punish the SNP leader until the next Scottish election in 2021. All we can hope is that the opposition holds her to account so when we do get our say, retribution will be swift.