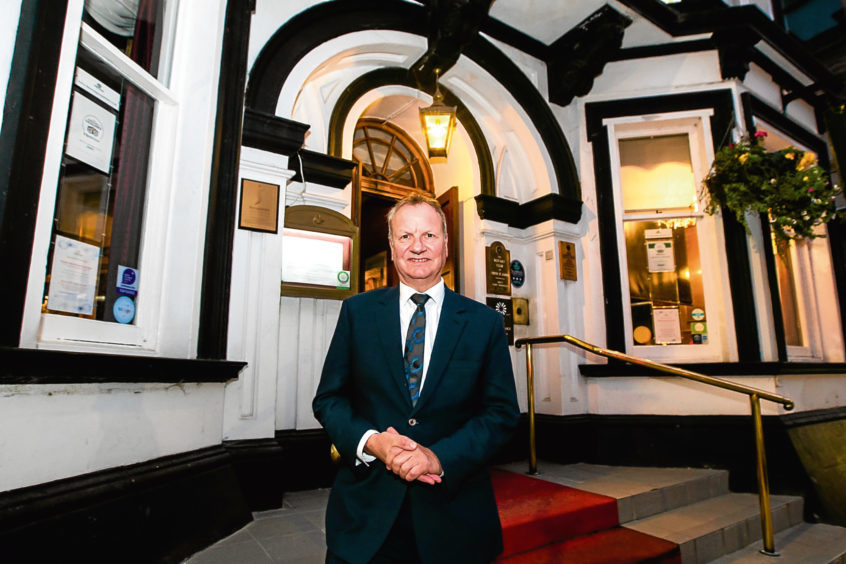 Being the target of cybernat attacks is par for the course for any Unionist who dares to defend Great Britain too conspicuously.
Since 2014, when the campaign for Scottish independence took over our lives, those of us in the No camp have grown accustomed to the online – and occasionally real-life – abuse dished out by an anonymous army of Nationalist trolls.
In the higher echelons of the SNP, the response to the gutter-level commentary within their ranks has been denial. They have never made any serious attempt to stop the harassment, preferring to disown it or accuse the opposition of being as bad.
We all knew this wasn't true and that, while there have been incidents of vitriol from both sides of the constitutional argument, it is the separatist fanatics who have been responsible for the bulk of the social media bile.
Now these hate mongers, who rarely reveal their identities, have turned on one of their own, the MP for Perth and North Perthshire, Pete Wishart.
He has been called an "Etonian boot-licker", a poster boy for the anti-Nationalist Scotland in Union group, his lifestyle in London has been criticised, and this diehard secessionist's commitment to Scottish independence has even been questioned. And all because Mr Wishart warned that a second independence referendum should not be held prematurely.
In a recent article, and in earlier comments, the former Runrig musician and the SNP's longest-serving MP suggested a rethink over the timing of a new ballot. A revised case must be made to win over the public, he said; losing again because Scots were not ready for independence would be a 'national tragedy'.
The MP, who held on to his seat in the 2017 general election by just 21 votes after a massive Tory swing in his constituency, acknowledged that the SNP was losing votes to the Conservatives because of the push for a re-run of the referendum.
His fears seem borne out by a new poll over the weekend, which shows how far the SNP have to go to convince voters. Only 43 per cent of Scots said they would vote to leave the UK, compared to 57 per cent opting to stay.
But despite the justification of his concerns, he has been denounced by the cyber bullies. The SNP veteran admits to being surprised by the vehemence of "people I presumed were political comrades" and has appealed for "respect" among independence supporters.
This column – never a fan of Mr Wishart, a politician of often knee-jerk reactions and intemperate language – now feels compelled to spring to his defence. He won't welcome the endorsement but his current plight is one that will spark sympathy from all who have yearned for rational debate in Scotland.
"Positions have to be challenged and analysed. Evidence has to be presented and judgements have to be made," he said. "Shouting people down, name-calling and misrepresenting people's views will not help anybody."
Hear, hear! How refreshing for a senior Nationalist to finally concede that strong democracy is built on the honest airing of opinions – and a pragmatic approach.
But it is not just the lunatic fringe in his party that needs to understand this fundamental point; most of his parliamentary colleagues, in Westminster and in Holyrood, could also learn from his conversion to the path of reason (if that's not going too far; he is still a Nat, after all).
One thing the SNP is not known for is its tolerance of other opinions; from Nicola Sturgeon down, the party has equated Unionism with treachery, charging those who don't toe the Nationalist line (more than half the country) with the crime of being anti-Scottish. A climate of intimidation has pervaded Scottish politics under Nationalist rule, and the country still bears the divisive scars of 2014.
Perhaps with one of their own stalwarts belatedly calling for an end to the nastiness, the party will realise that they can no longer silence people.
Mr Wishart said the adverse reaction to his more gradualist take on independence has put him off entering the deputy leadership contest. In the light of his new-found desire for political balance, that is to be regretted. The SNP hierarchy could certainly benefit from a sometimes dissenting voice.
He is also one of the few to have doubted his leader's doggedness over Brexit, saying the party needed to unite the Yes Leavers and Yes Remainers, after a third of SNP supporters voted to exit the EU in the June 2016 referendum. But Mr Wishart (and a couple of outspoken mavericks) apart, there is no evidence that Nationalist cheerleaders – of either the elected or the self-appointed variety – have embraced a more even discourse.
"I have to conclude we might have an issue and difficulty in our movement," Mr Wishart admitted, to which the only reply, I'm afraid, is: 'told you so'.