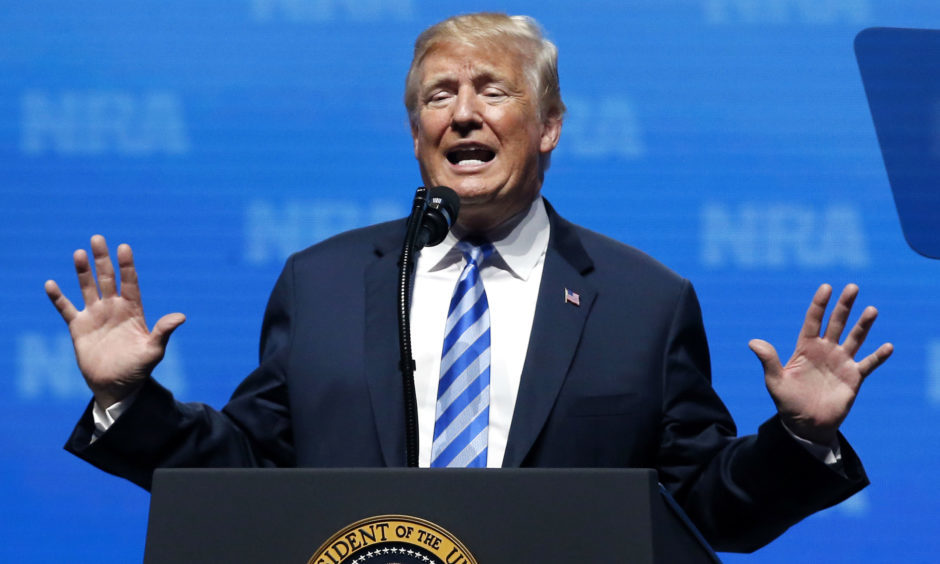 Not many people want to meet Donald Trump when he visits the UK in July. In fact, protesters are expected to line his path and politicians are queuing up to avoid him.
Unfortunately for Scotland, the 45th US president had a Scottish mother, a heritage that has drawn him to our shores with uncomfortable frequency in the past, usually to build golf courses and pick fights with the locals.
He has not been back since becoming the most powerful man in the world, but that looks set to change in the summer, with his itinerary understood to include a stopover in the land he calls "a very special place".
His advisers are said to favour a Scottish diversion, fearing the hostility of a London crowd, and hoping perhaps that he can travel north of the border with less of a lynching.
They can't be very well informed. Trump has a gift for causing offence but his most recent statement on gun control hit a raw nerve in Scotland, and particularly in one Scottish town.
Survivors of the 1996 Dunblane tragedy, in which 16 primary school pupils and a teacher were shot dead, have more reason than most to be appalled by the president's defence of gun ownership.
One of these, a young woman called Aimie Adam, now says she wants to talk to Trump about the frightening escalation of school shootings in the States, and tell him there is something he could do about America's gun crisis.
Trump told a meeting of the National Rifle Association (NRA) in Dallas, Texas, over the weekend that London hospitals were like a war zone because of knife crime. He blamed this on "unbelievably tough gun laws" in the capital.
While stabbings are a major problem on London streets – 38 people have died in knife crimes so far this year, according to the Met Police – the idea that guns could be part of the solution is treated as a sick joke in Britain.
The head of a group overseeing London's trauma treatment, Professor Karim Brohi, said it was "ridiculous" to suggest guns could help combat knife violence; gunshot wounds are at least twice as lethal as knife injuries.
If Trump won't listen to British doctors, maybe he will hear out Aimie Adam, who was shot twice by the Dunblane gunman, Thomas Hamilton. She said she despairs at the president's attitude and his refusal to rein in trigger-happy Americans.
"We changed gun laws after Dunblane and we have never had another school shooting," she said.
On average, 13,000 people are fatally shot in the US each year. Following a massacre at a high school in Parkland, Florida, in February, in which 17 students and staff were killed by a youth with a semi-automatic rifle, Trump recommended arming teachers to help save lives.
And he said background checks should be more stringent before people were allowed to buy guns, blaming mental health issues for a shooting epidemic that has shamed America.
After Dunblane, virtually all automatic and semi-automatic firearms, military weapons and handguns were banned in the UK, a measure that families campaigned for and that has been effective.
Trump did listen to schoolchildren after Parkland, in meetings that he hosted in the White House, with traumatised youngsters reliving the ordeal and recounting how they had seen their friends die.
One teenage boy from the school said to his president: "I don't understand why I can still go into a store and buy a weapon of war."
At the same meeting, Trump appeared to listen to the relatives of the victims of Sandy Hook, an earlier massacre in a primary school, where 20 children and six staff members were slain.
These televised sessions were extremely moving, but was the president moved? He was much mocked at the time when cameras caught his notes, with prompts such as "I hear you" and "What can we do to help you feel safe?"
His comments to the NRA are what we would expect of a politician warming up his support base, but would changing his views on the Second Amendment, which upholds the right of Americans to bear arms, lead to reform?
President Obama memorably cried over successive school shootings on his watch, but left office having failed to tackle gun culture.
Dunblane survivors have met victims of the Parkland shooting and are part of an international movement to try to influence American thinking on guns.
It is not Trump who needs to be converted, but the mighty gun lobby that divides America from the rest of the West and makes the US a truly foreign country to us. But if the president does set foot in Scotland in a couple of months, and he does get to meet Aimie Adam, it will be a start at least.