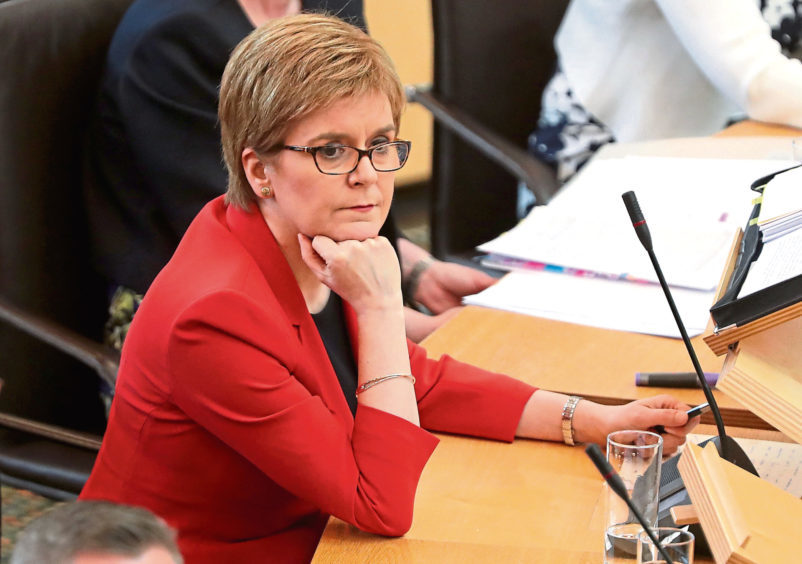 Nicola Sturgeon is right to say there has been "a palpable change in political debate" since her party's Growth Commission report was published over a week ago.
But the change has not been in the positive direction she claims. The most significant shift, in fact, has come from her own side, and most certainly not in a positive sense.
As she prepares to gather with the SNP faithful for her party conference in Aberdeen this weekend, she may well encounter an undercurrent of hostility of the kind that other political leaders get from their parties but that she has rarely experienced.
The Growth Commission, led by SNP stalwart and former MSP Andrew Wilson, had been touted as a gospel on which the nationalists might resurrect their fading hopes of secession.
In the event, Wilson's report, much delayed and, therefore, much hyped, was not the separatist fanfare anticipated by the wider Yes movement.
Wilson might be a Nat but he is also an economist and it would have been professionally irresponsible if he had championed independence without pointing out the economic consequences for Scotland.
As a result, great chunks of his so-called blueprint for breaking up Britain were a warning against rushing into anything so rash.
He cautioned that an independent Scotland would have to keep the pound for a lengthy period, which means the country would be bound by Bank of England monetary policy and would not be able to set its own interest rates.
He also said, pretty reasonably, that 'free' or not, Scots would have to honour their UK debts, not rack up more debt, expect budgeting and belt-tightening, and spend sensibly.
This may be financially sound but it's far removed from the previous independence referendum's promise of riches for everyone post-apocalypse.
It's hardly surprising then that Wilson's slightly dour predictions for a go-it-alone nation have not chimed with the hand-out culture of the Yes movement, and it's no wonder he has sparked divisions.
In the days following the report's launch, some Sturgeon apologists said it would lead to austerity and called for it to be shelved.
Sturgeon has felt forced to defend her appointed doomsayer and wrote an article for a pro-nationalist Sunday newspaper saying the Growth Commission's report would win the trust of a majority of voters and "build a compelling case for independence".
However, when her party meets on Friday there will be no official debate on the report, which suggests that she is not convinced it has united her own supporters, let alone brought on board those who voted No in the last referendum in 2014.
What is she to do? Ignoring Wilson's 354-page tome after its 18-month gestation is not really an option, especially if all those noisy Yes voters keep talking about it.
And adopting Wilson's own line, that people will eventually come round to his way of thinking, is an even worse idea. Wilson has been out of politics for a while and sounds like a sober bank manager, but Sturgeon hasn't and if there is one thing she understands it is the mentality of her activists.
These were the people who were swept along by Alex Salmond's vision of oil funds and Nationalist largesse, and treated the 2014 campaign like a street party (with only their half of the street invited).
And these are the same people who have been hollering for indyref2 because they enjoyed the first one so much. If their goal was to construct a viable and unsentimental case for a separate Scotland, they would have quietened down over the past year or so, while the rest of the country remained unmoved.
Trying to persuade this lot that Wilson's way is the only way, whether she, with her more leftist agenda, believes it herself, is not going to be possible for Sturgeon.
Her former justice minister, Kenny MacAskill, said the lack of a debate on the issue was typical of her "presidential regime".
Stinging that might be but she should take note. Allowing a proper discussion in Aberdeen this weekend of the merits or otherwise of the Growth Commission may provide some uncomfortable moments, but Sturgeon can no longer simply impose her will on the party.
MacAskill also said any political movement is a coalition of different views and it was Unionist wishful thinking to talk of SNP splits in the wake of the report.
But as he well knows that is not the case with the modern SNP. It has survived 10 years at the top of Scottish politics through iron discipline and not tolerating dissent.
Wilson isn't the first to throw a spanner in the works, but his contribution comes as Sturgeon's internal credibility is at a tipping point. Funny if it was this cheerleader who sent her over the edge.