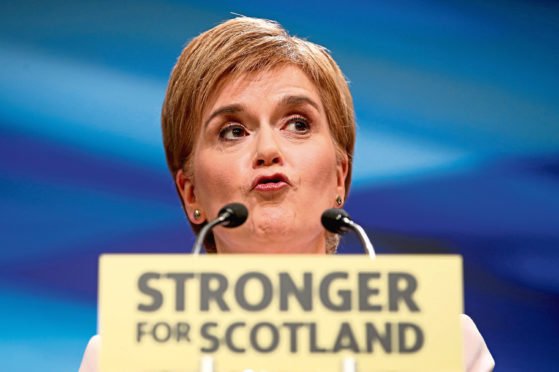 The constant theme of Nicola Sturgeon's political career, and most likely a preoccupation in her personal life too, has been Scottish independence.
This is not surprising for an SNP politician, of course, since breaking up Britain is the raison d'etre for the party.
But in the case of Sturgeon, and many of her senior colleagues, pursuing independence has had to co-exist alongside other duties for more than a decade.
For the past three-and-a-half years, Sturgeon's multi-tasking has included running the country, after she succeeded Alex Salmond as First Minister. However, holding down Scotland's top political post has never diverted her from her main focus, which is the secession of Scotland from the rest of the UK.
So, when she told Andrew Marr on Sunday that people should "stop obsessing" about when a second independence referendum would take place, there were audible gasps, and not just in my household.
For a few seconds, hopes were raised that she had, at last, decided that her day job was important after all, and that paying greater attention to, say, the GP shortage or plunging education standards would from now on take precedence over constitutional matters.
But, no. The SNP leader was only remarking on the timing of a new vote on separation, not sidelining the issue altogether.
"Let's stop obsessing all the time about when we might get the chance to vote on independence again," she said on the Marr programme.
"Instead, let's engage people in the substantive arguments. Let's address people who still ask the question why should Scotland be independent."
As one of the people who fall into this category, I must inform the First Minister that she has her work cut out for her.
If she doesn't believe me, the most recent poll – by YouGov, commissioned by the Scotland in Union group that campaigns against independence – suggests another referendum would deliver an even more decisive defeat for the nationalists than the last one in 2014.
Following the recent publication of the SNP's economic blueprint for independence, the Growth Commission report, 62% of Scots have not changed their views, with 41% against and 21% for the nationalists.
How Sturgeon plans to convert the obstinate majority remains to be seen, but she still sees Brexit as a factor in her favour.
"Brexit makes change inevitable, so there is an opportunity to debate the kind of change we want and how to shape that, that best serves our interests," she told Marr.
She said she would announce the timing of indyref2 in the autumn when the Brexit terms are clearer, but linking the SNP's cause to Europe's has been one of her biggest misjudgments to date.
There is no evidence that Brexit has shifted the unionist vote and, worse for Sturgeon, a report last week for the National Centre for Social Research revealed the extent of the split within the SNP over Europe.
The support by Brexit-backing Scots for the nationalists fell from 51% in the 2015 general election to 36% in last year's snap vote, contributing to the SNP losing 21 of their Westminster seats.
If Sturgeon's Brexit stance will not bring No voters on board the Yes bandwagon and alienates former nationalists, what else does she have up her sleeve?
Certainly not much in the way of an economic argument. Despite the efforts of her former SNP colleague, Andrew Wilson, who produced the unpersuasive Growth Commission report, she is strangely in the dark over the finances of independence.
In a toe-curling interview just before the SNP's weekend conference, she was unable to tell a Channel 4 reporter how much her dream would cost – extraordinary given the investment in a commission to ascertain just that.
Sturgeon has very little time to put right the wrongs of her administration, and anyway is still too distracted by the referendum dilemma to concentrate on more pressing concerns, such as poor schooling.
If she would only take her own advice and stop obsessing about independence perhaps she would serve Scotland better. But it's late in her leadership to expect such a turnaround. She has sealed her fate, which is to order a ballot she is bound to lose.