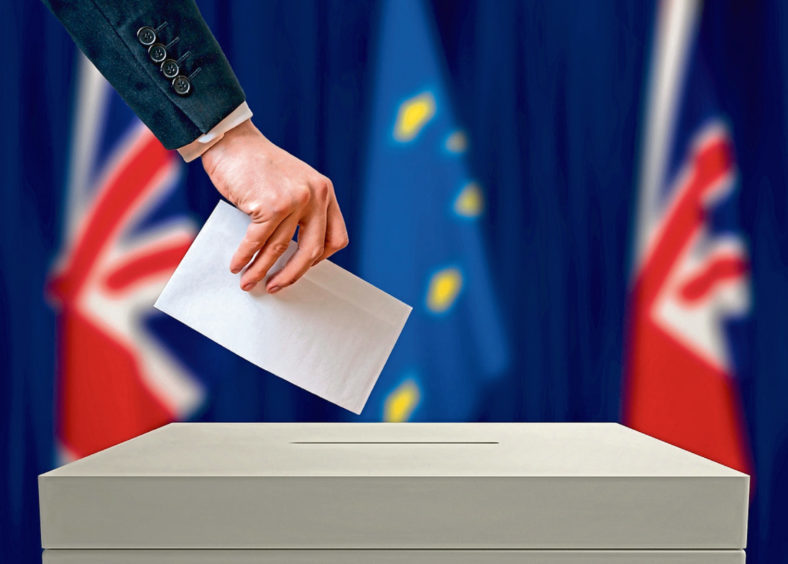 As Theresa May enters the ring again today with her EU adversaries – for that is what they have become – we can make several assertions.
Of course, assertions must come with caveats where anything Brexit-related is concerned, but here they are anyway.
Ruth Davidson, leader of the Scottish Tories, is on the same side as May. And so is David Mundell, the Scottish Secretary.
Whatever the headlines screamed at the beginning of the week about their planned resignations, they are both big supporters of the PM's position.
This is that there will be no dividing up the UK to suit the Brussels bureaucrats. Davidson and Mundell wrote a letter to May last week saying that if a deal is struck with Europe that treats Northern Ireland separately from the rest of the UK, they would stand down.
They would not tolerate a 'border' in the Irish Sea that such an arrangement would create, they argued, as this would break up Britain and undermine the future of the very Union they have fought so hard to protect from Scottish nationalists.
Northern Ireland is still at the heart of the impasse between the UK and EU, which would like the province to remain in the single market and customs union post-Brexit.
But May has shown no sign she is willing to compromise over this, which is as much a 'red line' issue for her as it is for her Scottish colleagues.
Thus, far from piling on the pressure, their letter must only deepen her resolve to keep the United Kingdom intact.
Another sure thing is that the Europeans underestimate the attachment Unionists have to the United Kingdom. This bond is strong in Scotland naturally, but with Northern Ireland, it is written in blood.
Yet the other member states miscalculated British passions, apparently forgetting that a war was fought across the Irish Sea in living memory.
Hopes of a Brexit breakthrough were subsequently scuppered when the minister, Dominc Raab, went to meet his counterpart, Michel Barnier, on Sunday.
The EU leaders had came up with a 'Northern Ireland only' proposal – the so-called backstop – that sounded to British negotiators too much like a treaty rather than the looser, temporary arrangement they were seeking.
No British prime minister wants to go down in history as the architect of the UK's destruction – and especially not a British premier whose Westminster majority depends on a small cohort of DUP MPs.
Now, what was looking before the weekend like the makings of a compromise has unravelled, and today's meeting appears to be heading in the 'no deal' direction.
But here is assertion number three: Donald Tusk et al will not humiliate May this time.
In Salzburg, scene of their last showdown, she was taken aback by their rejection of her Chequers plan.
It was painful to watch.
Today, she goes into the summit having already had her 'get out' clause on Northern Ireland rebuffed, she must by now be unbendable. Either they will have to blink first or she will leave without an agreement.
The latter would not be good for Britain, but it would focus minds here and on the continent. Perhaps from the ashes some sense will emerge.
At home, we might see a period of silence from those hard Brexit Cabinet ministers currently threatening to walk out if they don't like what May brings back from Brussels.
Does this lot – which includes relative nonentities such as Angela Leadsom, Penny Mordaunt and Esther McVey, who owe their promotions to May –really think destabilising her now would best serve their careers, or their country?
A wholesale Cabinet rebellion would not only depose the PM but probably her government too, and then we would have Jeremy Corbyn to negotiate the terms of any relationship with Europe.
Is it too much to expect a little more loyalty from the Tory ranks, or even a truce of sorts, to see us through these tortuous times?
And here comes assertion number four, admittedly more wishful thinking than the others. If the EU leaders behave as badly – disrespectfully, if that is not too emotive – towards May as they did in Austria last month, it will backfire.
Moderate public and parliamentary opinion will unite behind her and against a wilfully intransigent Brussels bloc.
While extremists at both ends of the spectrum will remain polarised, a steadying and strengthening of the middle ground will send a confident PM back to Europe as Christmas approaches, with an ultimatum.
Then, just before it's too late, Tusk and Barnier and Merkel and Macron (or maybe not Macron) will concede what's left of Chequers. And the details of the divorce will follow.
We will leave Europe with a deal – that's assertion number five. But be warned, this column did predict peace in Salzburg.
Help support quality local journalism … become a digital subscriber to The Courier
For as little as £5.99 a month you can access all of our content, including Premium articles.
Subscribe