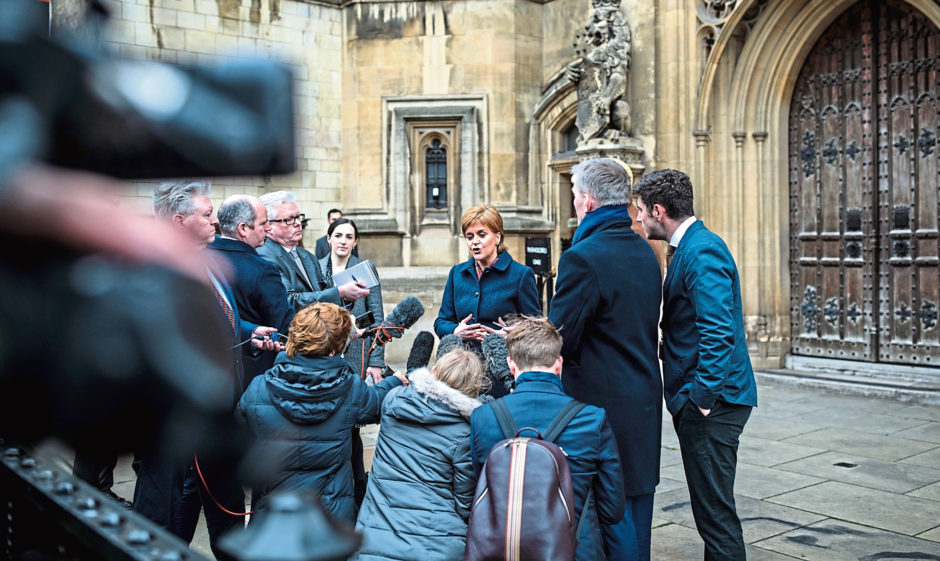 Nicola Sturgeon is in London again today, this time not just for the photo opportunities – although she is certain to grab those, too – but to discuss Brexit with the Prime Minister.
As Theresa May struggles to get her deal through Parliament, she is talking and (she says) listening to politicians of all persuasions.
But both women probably know before their chat begins that it will be a futile one. The Scottish First Minister is going to ask for a people's vote on exiting the EU, something May has ruled out. On this, and other demands, such as taking a "no deal" off the table, there is no likelihood of a compromise from Scotland.
This has long been the official line of the SNP – though not of all nationalists, about a third of whom were Brexiteers in 2016. The SNP wants a second referendum on Europe for two reasons – one is because it would set a nice precedent for another plebiscite on Scottish independence, a matter that was decided democratically in 2014, but not to the separatists' liking.
Also, in asking for something they can't have, the party can then exaggerate its grievances against Westminster, which is always the real motivation behind its strategies.
Sturgeon will emerge from her meeting theatrically affronted by May's intransigence. She has the act off to a tee. But we should not be fooled by her mock outrage for she was never in the business of helping a Tory PM secure a victory, even if that might be in the country's interests.
In fact, anything that is in the country's (that is, the UK's) interests is anathema to a nationalist. The SNP's Commons leader, Ian Blackford, used his time in the Commons on Monday to make this point, threatening that Scotland has "another choice".
"We might not be able to save the UK, but we can save Scotland. We have an escape route from the chaos of Brexit – an independent Scotland," he said.
The reasoning is that with Britain in turmoil in the event of a no deal – a situation nationalists yearn for – the argument for separation would be strengthened.
The flaw is that while Scotland may well have another choice, it has chosen, quite categorically, not to take it. Nothing in the past four and a half years has changed that view, whatever Blackford tells the Commons, and the so-called escape route is wishful thinking.
Sturgeon knows this. She has championed the cautious approach, resisting the increasing pressure from some of her colleagues and newer members of the party to repeat the independence referendum when she knows she can't win it. She has some support, from heavyweights like Jim Sillars, a former deputy leader of the SNP, who warned this week that there was no appetite for Indyref2.
"We're pretty well stuck in the position that we were in in 2014," he told a national newspaper.
And Pete Wishart, a veteran SNP MP, talking to a different newspaper, said: "It will be difficult to secure the conditions to make a referendum happen before the next Holyrood election."
The first minister might agree, and even a few months ago would have trusted her political instincts and continued to play the long game on independence.
But now she only commands the loyalty of half her party, which has been split, not just by the timing of a referendum, but by the fallout with her predecessor.
Alex Salmond, who is still being investigated by police over sexual harassment claims, has drawn on a surprisingly devoted fan base since winning his court case against the Scottish Government.
The smears and counter smears between his backers and Sturgeon's have damaged them both, but she has the most to lose, her authority included.
Simmering impatience in the ranks over her leadership has come to the boil and former ministers such as Kenny MacAskill are in open rebellion over the timidity of her independence agenda.
Salmond, looking for a fight while feigning to end his "uncivil war" with his one-time protégé, said the circumstances for breaking up Britain will never be better and she should be "concentrating all her energies" on independence.
In London, May looks to be listening more to the DUP and the hard Brexiteers in her own party. This might change again, but she is knocking at doors that are very slightly ajar, and they could give her the votes she needs next week to win her deal.
The Leader of the Opposition, Jeremy Corbyn, won't even negotiate, and the SNP is fighting a different battle, which has little to do with the terms of Brexit. May will go through the motions with Sturgeon today, but she must realise that the nationalists are a lost cause, something the majority of Scots have known all along.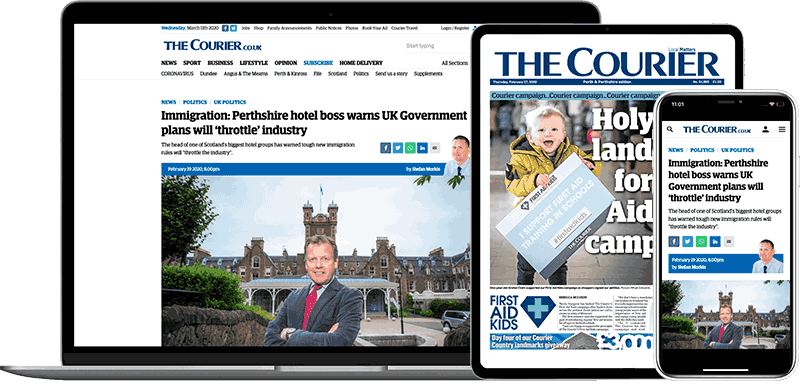 Help support quality local journalism … become a digital subscriber to The Courier
For as little as £5.99 a month you can access all of our content, including Premium articles.
Subscribe