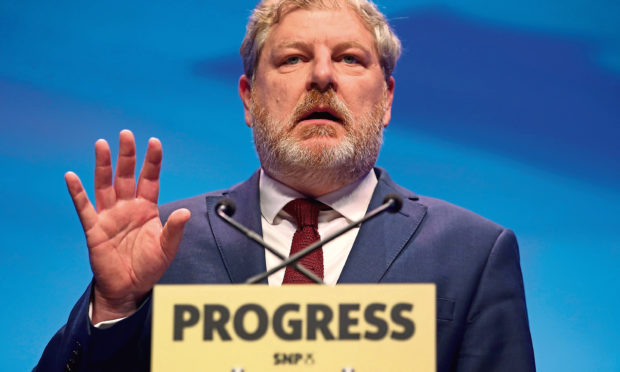 When Angus Robertson lost his Moray seat in the 2017 general election, he joined a queue of big SNP beasts heading out of frontline politics.
Since then, some have fared worse than others (the former MP for Gordon, for example), and some have been missed more than others.
Robertson falls into the latter category, mainly because his replacement as party leader in Westminster, Ian Blackford, has turned out to be a poor Commons performer with a sometimes embarrassing lack of self-awareness.
Now that Robertson has re-entered the political community, albeit on the periphery, by launching a new polling organisation, we are reminded that he was one of the saner voices of the independence movement.
His Progress Scotland initiative will, he says, monitor the appetite in Scotland for another referendum on breaking up Britain.
"I think we need greater clarity on where we are going before we ask the question," he said. "What is the point in simply re-running the question in the hope that just because one speaks a bit louder or knocks at the front door a bit louder that one's going to get the ball across the line?"
At last! A dose of reality from a Scottish Nationalist. Robertson, never the most reckless among his comrades, appears to have spent his time in the political wilderness in serious contemplation of the future of his cause.
It might seem strange that it hadn't occurred to other senior figures in the SNP to weigh up the mood of the electorate and pause, before plunging headlong into a second disastrous constitutional gamble.
The party is split over the timing of a new ballot on independence, but Nicola Sturgeon has evidently been listening to those noisiest voices demanding an early vote. She said she welcomes Robertson's new project, but will she wait for its findings, given that she has already indicated she will soon announce her timetable for indyref2?
As for him, he might have spent months reflecting on failure, his own nearly two years ago and his party's in 2014, but he certainly hasn't given up on the dream.
He said his aim in setting up Progress Scotland was to identify the policies and arguments that would persuade voters to back independence.
This is not a politician who has abandoned a forlorn hope, but one who is approaching it from a more thoughtful perspective.
With the consequences of Brexit still up in the air, he said there was work to be done in understanding public opinion, explaining Scotland's relationship with Europe, and making the economic case convincingly – "I think people need to know where we are".
Existing pollsters have, of course, offered some insights over the past four and a half years into where we are, with the ground shifting very little in Scottish attitudes towards independence. Scots voted to stay part of the UK by 55% to 45% in 2014, and there has been nothing to suggest a repeat ballot would produce a different result today.
If the SNP's present difficulties are thrown into the mix, the prospects look bleak, what with a former first minister facing trial over alleged sexual assault and attempted rape, and the current first minister embroiled in a standards investigation into her handling of the matter.
Robertson seems undeterred. "I think there will be another referendum. The current Scottish government has a mandate to hold such a thing, so I do think it will come,' he said.
He has enlisted the services of a former Ipsos Mori director and has some finance in place to carry out his research. It does all sound sensible.
However, Robertson is still a Nationalist. What will he do if he discovers that the majority of Scots are quite keen to keep the UK intact?
No amount of campaigning, some of it pretty forceful, remember, has persuaded the country to back independence in the past.
If Robertson, as he goes about trying to get under his compatriots' skin, meets with those same, hard-to-dislodge objections to separation, will he accept defeat?
Or is that when the reason ends? If he embarked on a genuine exercise to find out what Scots want, and if he promised to abide by their wishes, I might even donate a (small) sum to his funds.
But somehow, I suspect there is only one answer in his quest and it is Yes. That is what he is seeking, not the truth.