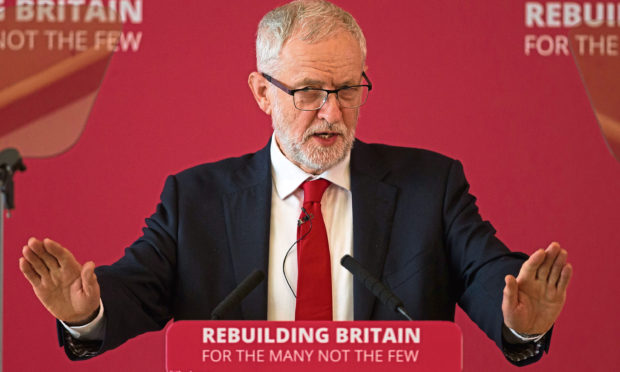 Jeremy Corbyn doesn't emerge well from the book about him by Tom Bower, but this author's previous subjects – or should that be targets – have, arguably, fared worse.
The writer is either loved, as Britain's foremost "investigative" biographer, or loathed for his unauthorised hatchet jobs on controversial public figures.
Corbyn, compared to, say, Robert Maxwell, Mohamed Al-Fayed or Klaus Barbie, seems a slight threat as a man, whose sins mostly revolve around weakness of character, lapses of principle (over vegetarianism anyway), and unpatriotic associations with Britain's enemies.
It is only because he is now in close proximity to Number 10 that he is considered enough of a bogeyman to merit Bower's attention.
But joke figure as he is to, hopefully, a majority of Britons, Theresa May must be extremely mindful of how she handles him over Brexit.
The progress at the beginning of the week between the government and the Labour Party followed Corbyn's overtures last week, when he called for a soft Brexit, including staying in a customs union and single market.
In return for these demands, Labour would back May's Withdrawal Agreement. The prime minister responded with a letter that alarmed the Eurosceptics in her party.
She told the Labour leader his proposal would cause "negotiating challenges" but she did not initially rule it out – although yesterday her focus seemed to have returned to the backstop.
She also agreed to hold talks with Corbyn and welcomed the fact that he made no mention of a second referendum on the EU, or a general election.
"It is good to see that we agree that the UK should leave the EU with a deal," she wrote.
While she could hardly ignore any apparent olive branch, let's hope May approaches any future manoeuvres by the Labour Party with her eyes wide open.
There has been nothing in the behaviour of the current leadership to inspire confidence, let alone earn trust, and every reason to suspect their motives now.
For a start, there is possibly even less consensus in Labour over Europe than there is among the divided Tories, or the equally split SNP for that matter.
Keir Starmer, the party's Brexit minister, is a rabid Remainer who wants a people's vote, as do most of the parliamentary party, but Corbyn, his Marxist sidekick Seumas Milne and the shadow chancellor John McDonnell are instinctual hard-left Leavers.
They identify with those English voters who would punish Labour at the ballot box if the 2016 vote to leave was not honoured.
Whatever Corbyn says, it is reasonable – sensible – to question his tactics. The last thing he wants is to see May safely home with her deal.
If she did go along with his latest conditions, which include giving extra money to poorer Labour constituencies, pro-Europeans in the Commons would be able to back her, as would Brussels.
In fact, EU negotiators seized on Corbyn's offer last week with a zest that exposes their naivety about British politics.
What would the Labour leader gain from the Tory PM securing a negotiated withdrawal by March 29? Though May would, of course, fall out with much of her own party, and the DUP, there would be no chance of getting rid of her.
What is Corbyn up to then?
He is not so stupid (despite failing to make much of his grammar school education, as Bower tells it) to realise that total obstinacy over Brexit might backfire if it does all end badly.
Labour does not want to be blamed for the subsequent mess of a no-deal, so Corbyn has to be seen to be doing something to end the impasse.
But this is a leader whose party is in disarray, and not just over Brexit. The Conservatives' chasm over Europe may be eternally unbridgeable but it is nothing to Labour's ideological battles or the internal bitterness caused by charges of anti-Semitism.
On one side of this latter, ugly dispute there is Tom Watson, Labour's deputy leader – backed by Tony Blair and probably most of the country – who is appalled by the treatment of the Jewish Labour MP Luciana Berger.
On the other side, there are the leftist activists, some reportedly with close ties to the Labour cabinet, who have been trying to get Berger deselected on the grounds that she is no fan of Corbyn. Some have suggested she used her pregnancy to win sympathy and others accused her of being a "disruptive Zionist", according to reports.
This episode may have no bearing on Brexit but it shows the level of unscrupulousness in Corbyn's Labour.
It is not his concessions to May that are unpalatable – they are, after all, what many of us voted for in 2016. But she would be wise to fear him, even when he brings gifts.