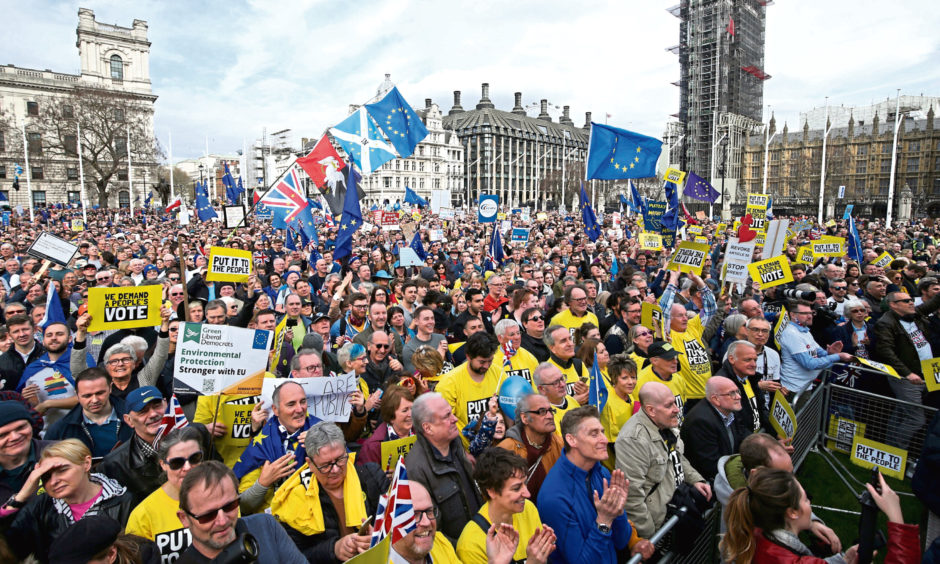 The people I know who marched through London on Saturday demanding a second referendum on Brexit all had a good day out.
The atmosphere was jolly, and the banter benign, even though the crowds were so dense that it was impossible for some to reach Parliament Square for the speeches.
In fact, if they had made it in earshot of the megaphones and seen Nicola Sturgeon's blatant attempt to hijack the People's Vote march for her own ends, their fun may have been over.
But rubbing shoulders along Park Lane with like-minded Remainers and their "referen-dum" and "revoke the vote" banners seems to have been a cathartic experience after witnessing weeks of warring politicians.
Estimates of the crowd vary between 120,000 and one million. On top of the more than five million who signed a petition calling for Article 50, which takes us out of Europe, to be revoked, the protest movement against Brexit is gathering pace.
It is still far short of the 17.4 million who voted to Leave in the 2016 EU referendum, and there is no evidence that if another ballot were held tomorrow the result of two and a half years ago would be any different.
Yet feelings are clearly running high and the fact that the London marchers were well behaved shouldn't make us any less worried about how polarised the country is over Brexit.
The "people" may be a small section of voters but, Waitrose jokes aside, many of them are middle class, educated professionals, not to mention household names, and they have a powerful voice.
So, it is even more alarming that they think abandoning democracy is a legitimate option. These are not anarchists, and they are, mostly, not socialists (Jeremy Corbyn was a no-show). I wonder how many are even republicans?
When I last went on a march, my fellow foot soldiers were comrades, Margaret Thatcher was prime minister and left was left and right was right.
While we can't pigeonhole the Put It To The People lot too precisely, they appeared en masse to represent the Home Counties more than the Grim North.
Whether they represent Britain, though, is the problem. If a majority of the electorate agreed that a legal, and democratic, vote was not to be taken seriously, public order would surely disintegrate every time we had a general election.
Who decides which bits of our democracy are negotiable and which bits are set in stone? The strident tones of those members of the public who most loudly oppose Brexit drown out other opinions. But the other opinions are valid too, however distasteful they are to some of us.
Perhaps it is easier in Scotland to stand back from the Revoke Article 50 campaign. Unless you are one of the Scottish Nationalists who have seized on Brexit – and the London march (SNP Commons leader Ian Blackford was there, as well as Sturgeon) – as a route to separation, you will probably be appalled at the largely southern contempt for the outcome of the 2016 referendum on Europe.
As a staunch Remainer, but a Unionist too, I cannot see what different justification there is between re-running a plebiscite on the EU and one on Scottish independence. You can't give in to one without giving in to the other.
Saturday's march was an unholy alliance, at least on the podium, of opportunists, some who cannot accept that their Britain is the same country as the Leavers' Britain, and some who don't want a Britain at all.
The answer most of my nearest and dearest gave when I inquired about their motives for marching was that the Government and Parliament had made a mess of things. This is not in doubt. The process of Brexit continues to be painful and the divisions will run deep when, if, it ever ends.
Politicians on both sides of the debate have been inept and are responsible for the UK's loss of dignity. Maybe another era would have thrown up individuals with greater political skills.
But are the present bunch really to blame for the nation's almost 50-50 split on the EU? We didn't have the referendum result imposed on us, we engineered it ourselves.
Politicians are reflecting the battlegrounds drawn up by voters to some extent and if we don't like what we see unfolding in Westminster, it is because it mirrors too closely what we see around us.
Whatever the way out, it must be the democratic way. We live in a representative democracy, thankfully, and must trust our elected representatives to get there in the end.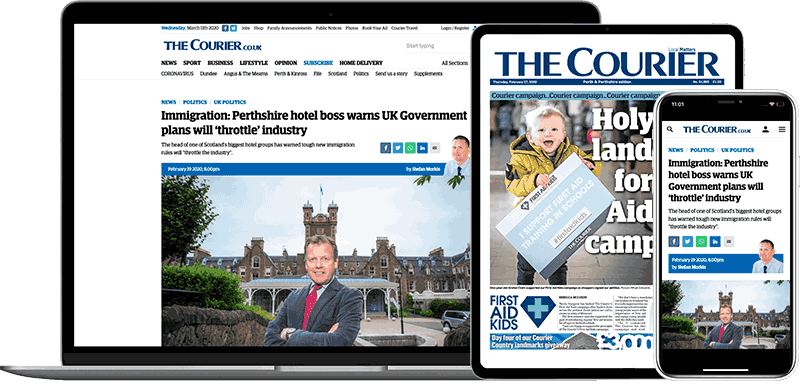 Help support quality local journalism … become a digital subscriber to The Courier
For as little as £5.99 a month you can access all of our content, including Premium articles.
Subscribe