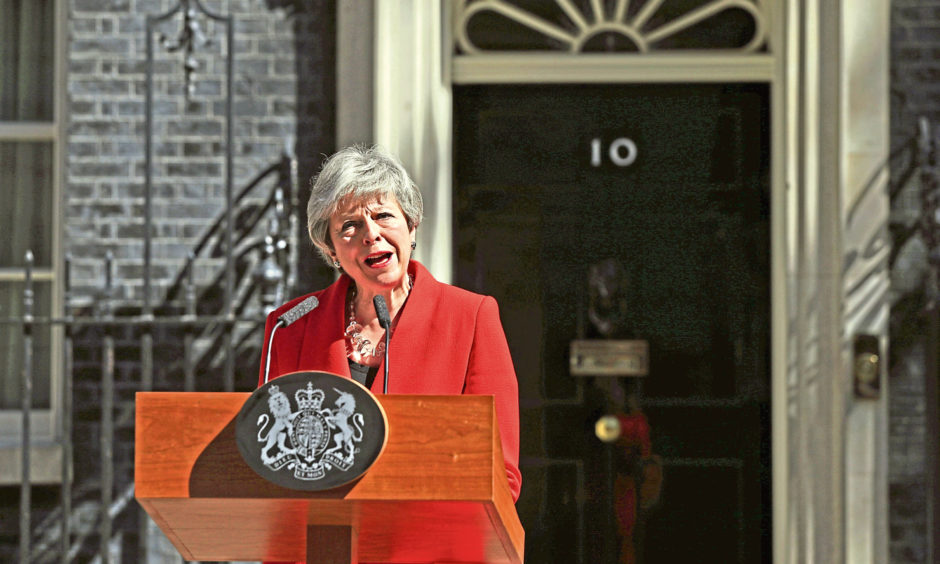 Theresa May shed tears when she was forced by her party to resign, but as she stands down as Tory leader on Friday, she will have plenty to cheer her up.
Although her party will be left rudderless while hopefuls line up in the battle to succeed her, May will remain as prime minister until a new leader is elected.
That is expected to be by the end of July, which means she is in for almost two months of entertainment at her colleagues' expense.
She is probably still too distressed over the nature of her exit – ganged up on by her fellow Conservatives – to appreciate what is coming.
But throughout her troubled premiership, one aspect of her character has become apparent – she bounces back from the brink remarkably quickly.
Setbacks that would have crushed another politician – defeats and humiliations too numerous to mention in both Westminster and Brussels – have been absorbed, and May has rallied again and again.
Now she will be obsessing about her legacy, and of course ruing her failure to secure her Brexit deal.
But once the cares of her hardest role – leading the Tories – are behind her, May can enjoy the final weeks in Downing Street knowing that whoever comes next will make an even bigger mess of things.
At the time of writing, the field was too crowded to pick a clear winner. There were 13 names in the frame at the last count, at least two thirds of them unknown outside the political bubble.
Boris Johnson is the most popular with party members, a rather small (about 130,000) and certainly unrepresentative group.
However, he has less support among MPs, who will vote in the first round and who were favouring Michael Gove on Monday, with 26 said to be backing the environment secretary compared with Johnson's 23.
Both are Leavers, although Johnson's support for a no deal sets him apart from Gove, who has angered hard-line Brexiteers by threatening to delay Britain's departure from Europe beyond October 31.
This, he argues, is preferable to risking the chaos of leaving without a Withdrawal Agreement, which sounds reasonable, unless you are more of a Johnson-type Tory.
Or a Priti Patel or an Iain Duncan Smith (a former party leader), who have joined a backlash against Gove over his comments.
While the country will not be voting in this ballot, they might be interested in its outcome, given that the winner will be in Number 10 until 2022, unless a general election is called before then.
There is no room here to go through all the candidates – some of whom are being urged to drop out in order to rescue the party's reputation for divisiveness, although it's far too late for that.
But if Patel and Duncan Smith are on your side, or Jacob Rees-Mogg, you are unlikely to be in tune with the majority of the electorate and, therefore, should not be made leader, if the party had any sense.
The problem with the more moderate options is that one is Jeremy Hunt, a less frightening Conservative and a Remainer, but unelectable one suspects, although we should not forget John Major.
He stole up on Michael Heseltine, the favourite to beat Margaret Thatcher in 1990, and ended up a one and a half-term prime minister.
The other moderate making headlines this week is Rory Stewart. Perhaps because he is such a rank outsider, or perhaps because he is genuinely nice, no one has a bad word to say about him.
Except Ruth Davidson, Scotland's leading Conservative and a possible future leadership contender herself, despite having ruled out that ambition recently. She damned Stewart with faint praise in her Sunday newspaper column, describing him as a "brief infatuation" in the Nick Clegg mould.
She may well be right, but as a fellow Scot – his parents live in Crieff, Perthshire – as well as a Europhile, he would surely play better with Scottish voters than most of the more obvious choices.
Gove is also a Scot, and his backers are less toxic than the Johnson camp and thus harder for the nationalists to exploit, looking at it from a Scottish perspective.
From any perspective, the race is a minefield. There have never been so many hats in the ring for this job, and the complex process of elimination, on top of current Tory existential desperation, could potentially throw up a wild card.
There will be one person watching this with glee as the starter guns are fired on Friday. Theresa May will despair in public over the fate of her party. But, in private, she and husband Philip will have the last laugh.