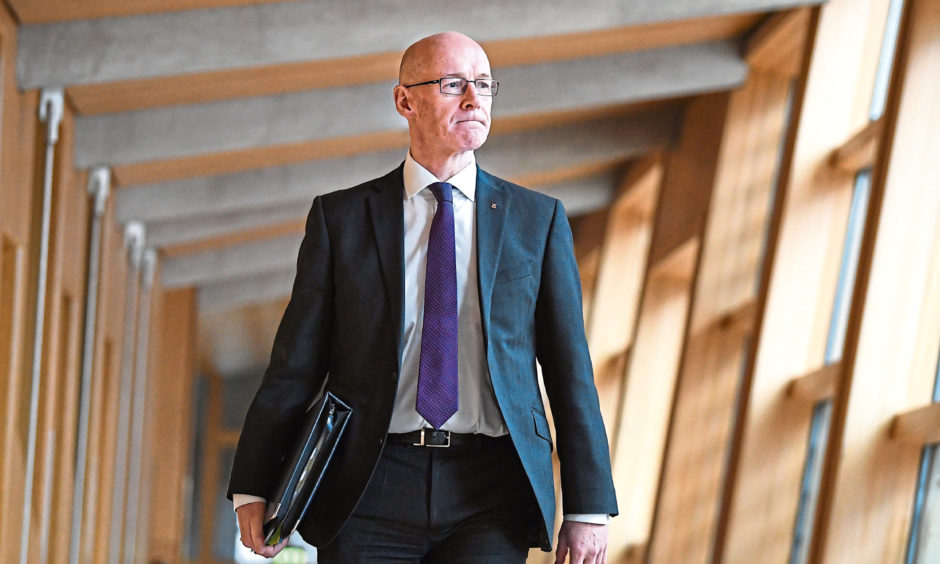 The lack of a credible opposition may give the government in Westminster a better chance of survival than it deserves, whenever it decides to go for another election.
And much the same can be said, though with the parties rearranged, in Scotland. If the Unionist vote here was not split three ways, would the Nationalists have lasted this long in power?
Based on their record in office, the answer has to be a certain no. Even allowing for the fact that so much ministerial time has been diverted to constitutional matters, the performance of most departments is disappointing, to put it mildly.
But worse than the incompetence is the SNP habit of shouting down any criticism, regardless of how justified it is, or the integrity of the critic.
Take the recent outburst by Keith Brown, deputy leader of the SNP, over Audit Scotland's scrutiny of the Scottish government's social security agency.
The independent watchdog, which had the temerity to raise the agency's shortcomings at a Holyrood committee hearing recently, was castigated by Brown for wasting taxpayers' money and being 'intrusive'.
Brown, whose SNP partner happens to work within the party's troubled social security unit, suggested that the widely respected Audit Scotland had a tendency to be counter-productive.
But Brown's arrogance is nothing compared to that of a far more senior Nationalist, John Swinney, whose handling of the education portfolio has been disastrous, both for his career and for the nation's children.
Once a safe pair of hands, Swinney has dropped the ball in his current position, which, admittedly, is a hard job to get right.
Instead of acknowledging the scale of the challenge in improving Scotland's freefalling education standards, and conceding his government's failure to address an escalating attainment gap, Swinney has resorted to shooting the messenger.
Last week, when Scottish Tory leader Ruth Davidson highlighted the growing crisis of teacher shortages, Swinney dismissed her concerns as a 'moan-fest'.
Yet Davidson was reflecting teachers' and parents' dissatisfaction with the way schools have been managed under the SNP, and had a right to be taken seriously.
She pointed out that pupils in Scotland sitting at least three different qualifications are being lumped together in the same class.
Figures obtained by her party revealed that 112 secondary schools north of the border have combined classes for three exam levels, while 11 schools cram four levels – ranging in age from 13 to 18 – into one class.
In Inverclyde Academy in Greenock, Renfrewshire, National 4 and 5 students were being taught alongside Higher and Advanced Higher candidates, with just one teacher.
In Perth High, three levels were taught in combined classes for physics, biology and chemistry, according to the Conservatives' findings.
The party looked at 238 schools out of Scotland's 359 secondaries, and found that almost half had combined classes for three different levels, which Davidson attributed to staff recruitment problems.
Swinney insisted that multi-level teaching was a time honoured tradition in Scottish schools. But few educationalists seem to agree.
Davidson quoted experts who said the current practice was 'intolerable' and 'a disgrace'. And a survey conducted in 2016 by the Royal Society of Edinburgh showed that 99.5% of teachers believed the system was failing Higher students.
Seamus Searson, general secretary of the Scottish Secondary Teachers' Association, reportedly said Swinney "doesn't want to accept he has got it wrong".
More unforgivable though is the way the cabinet secretary, like education ministers before him, inferred that any critique of schools was undermining pupils.
"While Ruth Davidson was cooking up the latest moan-fest," he said, "I was at the Scottish education awards, listening to case after case from the length and breadth of the country on literacy, numeracy, attainment, achievement and the long service of our teachers".
What does he mean? That politicians who try to hold him to account over his brief are discrediting hardworking youngsters?
The Liberal Democrat MP Jo Swinson was accused of 'smearing' Glaswegian schoolchildren, after she compared results in her middle class constituency – where up to 80% go to university – with those in Govan, where it is four per cent.
This, said Swinney, was "an appalling insult to the pupils and staff at schools in the Govan area who are achieving so much".
Another SNP minister demanded an apology from the Lib Dem member for East Dunbartonshire for her 'outrageous smear'.
But it is the Nationalists who should be apologising to the generations of Scottish children they have abandoned to third world educational outcomes and a future without promise.
Their 10 years at the helm of education policy have driven teachers away from the profession and consequently compromised standards, however they twist the figures.