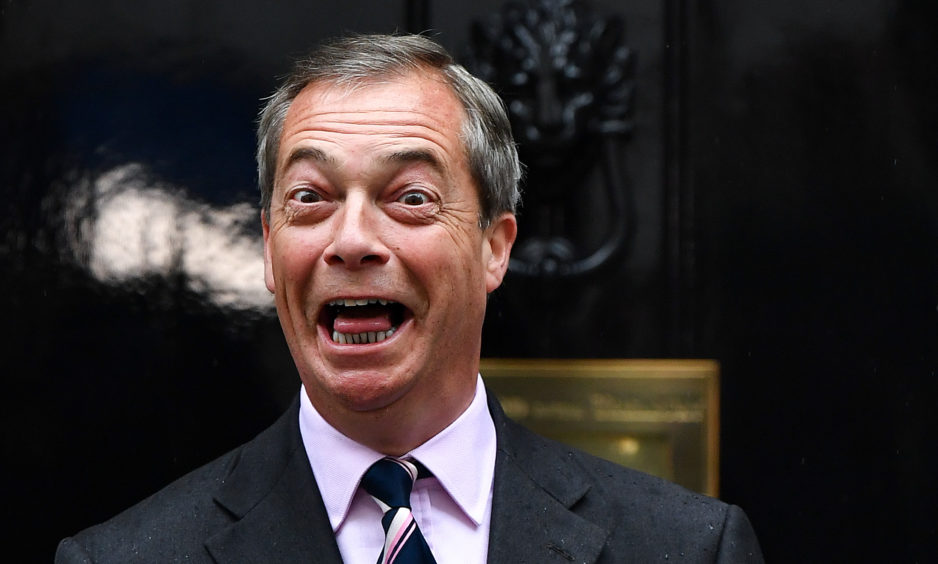 The rise and rise of Nigel Farage continues, with talk this week of a pact between his Brexit Party and the Tories to wrench Britain out of Europe by the end of October.
As yet another poll (by YouGov) puts Farage's party ahead of the Conservatives, Labour and the Liberal Democrats nationwide, rumours of such an electoral stitch-up sound more plausible than this power-hungry politician's denials.
The speculation goes as follows – the new Tory leader would have to call a snap general election to ensure there are enough MPs to back a speedy exit from the EU.
Conservative donors have reportedly approached Farage about a deal, in which the Tories would not field candidates in winnable Brexit Party seats – for example, in Labour's former north of England strongholds.
And Farage, in exchange, would agree not to oppose Conservative Brexiteers, thus removing any temptation to jump ship from disgruntled Europhobe Tory voters.
Obviously, Boris Johnson, the leadership hopeful most likely to lure Brexit Party dissenters back into the fold, still needs to win the party's crown.
But with that looking more like a foregone conclusion, the UK could soon be on an election footing again, with the far right up against the far left and mounting despair for those in the middle.
Where does Scotland figure in such a scenario? The SNP will, of course, be gleeful if a cabal led by an English toff gathers growing numbers of Euro-bashing grotesques.
Nicola Sturgeon has been quick to create noise around the probability of a Johnson premiership and what that entails for pro-Europe Scotland.
She will miss no opportunity to push forward her independence agenda if there is a hard Brexit coalition, unofficial or otherwise, in London.
But Farage will have an impact north of the border beyond furthering the nationalists' hopes.
He knows this, which is why he has already begun campaigning here. On Monday, his face was on leaflets dropped through letterboxes in Scotland; and although there was no mention of the Brexit Party, the familiar themes were there, under the banner of the EFD (Europe of Freedom and Direct Democracy), of which he is president.
Farage is targeting the one million-plus Scots who voted to leave the EU in 2016, but who are constantly told by the Scottish Government that they do not exist.
Independent polling by the EFD found that there is a Scottish constituency that doesn't want more EU laws; that nearly two-thirds of those asked rejected the euro as a currency for Scotland; and that 55% did not want the EU to have more control over Scottish fishing grounds.
A clear majority in the poll agreed that regardless of the Brexit outcome, Scotland's best prospects for economic growth are to remain a part of the United Kingdom.
Farage's electioneering literature may not be a weathervane of Scottish public opinion, but his appeal here cannot be dismissed.
Since he was roughed up by protesters in Edinburgh, and had to take refuge in a pub on the Royal Mile, during a foray north in 2013, his party, in various forms, has won a seat in consecutive European elections, most recently this May.
The idea that Scots are immune to a Farage offensive is nonsense and if he is taking seriously his chances of making headway in Scotland, so should his opponents.
Ruth Davidson, and her pro-Remain, liberal brand of conservatism, will face the biggest threat if Tory Brexiteers believe a vote for Farage is not wasted.
She cannot drift to the right to claw them back because her success to date has depended on making the Scottish Tories a more unifying force; she wouldn't want to forfeit that hard won advantage.
Other unionist parties could help by reaching a pact among themselves, but Davidson will get no lifeline from the chaotic, Corbynite Labour hierarchy that is, in any case, haemorrhaging support in Scotland.
And the Lib Dems don't have enough clout to make a big difference, although they did poll well in Scotland in the European elections.
So will Farage, in dividing the opposition, hand Sturgeon a propaganda coup, on top of a comfortable crop of extra MPs, to fuel separatist momentum?
Or will those half a million Nationalist Brexiteers decide that getting out of Europe, which is on the cards, takes priority over breaking up Britain, which despite (or because of) 10 years of SNP rule is still a long shot?
The only guarantee is that the Brexit Party leader will not go away, from UK or Scottish politics. His fan club, on both sides of the border, is resilient, he clearly has resources, and his 'What Scotland really thinks about the EU' message speaks a truth.
Like it or not, Farage has identified a gap in the political market in Scotland.