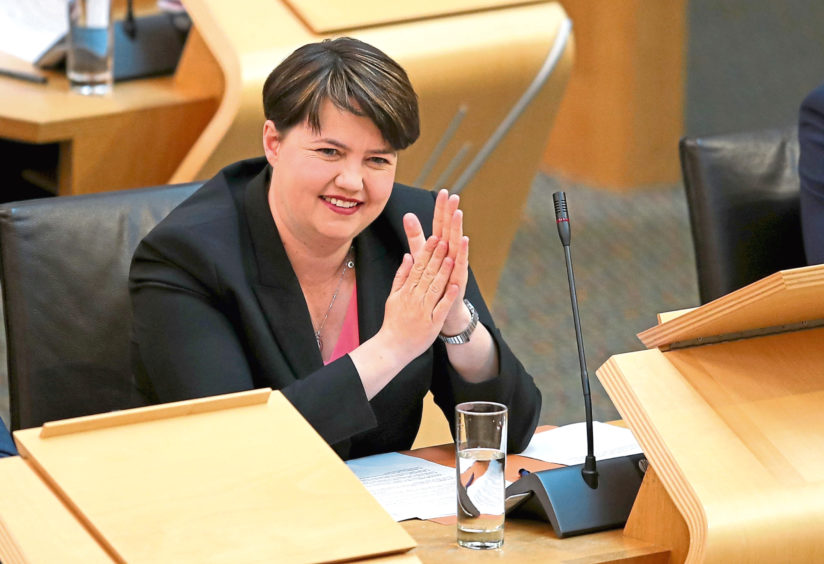 As the battle for the Tory leadership is now a two-horse race, it should be easier for Conservatives to back their man (no women are left in the contest).
And as one candidate, Boris Johnson, is a Leaver and the other, Jeremy Hunt, is a Remainer, the choice should be straightforward, even made on ideological grounds, if there are any party members who are guided by things such as ideals.
So, who is Scotland's Conservative leader, Ruth Davidson, gunning for? Sajid Javid! Yes, the contestant who came fourth and who has been knocked out since last Thursday is still the one for her.
"Politics needs more people like inspirational Sajid," Davidson wrote in her Sunday newspaper column.
While the home secretary may well be a decent chap, who fared better in the hostilities than many imagined he would, he is history as the process moves on.
In extolling his virtues, while ignoring those (or otherwise) of Johnson or Hunt, Davidson has missed an opportunity to set the agenda for Tories in Scotland over this vital showdown.
Given her past antipathy to Johnson, there have already been raised eyebrows over the past weeks regarding her reluctance to criticise the frontrunner.
She famously clashed with him in 2016, defending her staunchly pro-EU position against his arch-Leaver stance, and dismissing some of his campaign claims as lies.
More recently, she appeared to have banned him from making an appearance at her spring party conference in Aberdeen, so potentially damaging is he to Tory hopes north of the border.
However, she has performed something of a volte face ever since his Number 10 ambitions seemed unstoppable, going as far as insisting she could work with him.
This could be seen as sensible pragmatism, but it is also disappointing from a leader who has shown more courage to date.
Does she really think Johnson would be a suitable prime minister – never mind party boss, it's the other role that should be concentrating the membership's minds right now – or does she still hold to her old views?
If the latter, then she should say so, and quickly. Without being overly judgmental about the former London mayor's private life, events at the end of last week do ring the alarm bells again.
There must be serious fears even within Johnson's inner circle over his knack of snatching defeat from the jaws of victory.
Because, for all their attempts to keep their gaffe-prone champ below the radar, and just when pundits were saying nothing could stop his trajectory to Downing Street, he has managed to give his opponents real cause for optimism.
The shouting match with his girlfriend in itself may not be a disaster, but it draws attention to the sad truth that this is not a man, his ego notwithstanding, cut out to be the next British prime minister.
The very day he secured a seemingly insurmountable lead in the job he has long dreamed of, he was not celebrating with the team who got him there, but incurring the wrath of yet another woman who is not his wife.
You would have to find Johnson's political abilities peerless to overlook the pathetic shambles of his personal affairs.
But he is clearly considered, by his own staff, to be a poor performer, otherwise they would not have hidden him from public scrutiny until now.
The exposure of the nationwide hustings will see what he is made of, but in Scotland, where the two men are due to appear on July 5, he will never be loved, despite the support of five Scottish MPs.
The Conservatives here have taken their lead from Davidson, who has brought them renewed credibility and tangible success.
On a Remain platform with a distinctively moderate tone, her party gained 12 seats in the 2017 snap general election.
She has quite reasonably set her sights on making further inroads into the Unionist vote and is a contender to take the first minister's crown from Nicola Sturgeon in the 2021 Scottish elections.
But there is a problem – Boris Johnson. The Nationalists cannot believe their luck in being handed such a gift – a privileged right-winger with an oafish tendency of sounding cavalier on acutely sensitive issues.
A poll at the weekend suggested Scotland would vote for independence if Johnson were prime minister.
But Davidson is not powerless in all this. She has tremendous influence over Tories in Scotland, who surely credit her with turning around party fortunes. And in the south, she has been touted as one to watch, a possible premier even.
She should back the side she clearly identifies with – Hunt's, jump on his bandwagon as he closes the gap, and spell out her genuine concerns as regards a Johnson victory.
She – and we – can deal with the consequences later.
Help support quality local journalism … become a digital subscriber to The Courier
For as little as £5.99 a month you can access all of our content, including Premium articles.
Subscribe