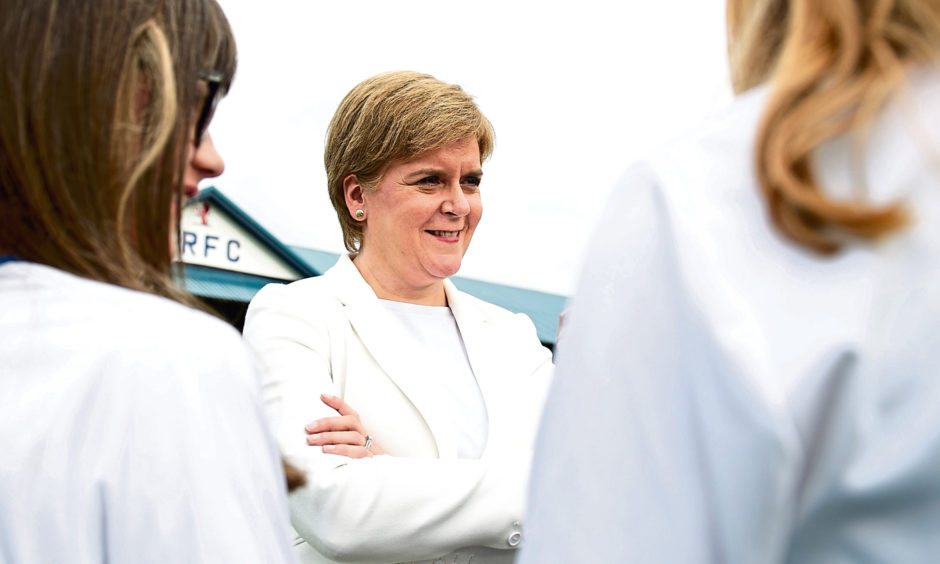 Lord Ashcroft's latest poll showing a majority of Scots are in favour of independence may be the first such result of its kind in more than two years.
But Nicola Sturgeon, desperate since 2016 to build momentum for separation on the back of Brexit, is gloating already.
For Unionists, there is some comfort. Firstly, this research – which puts 52% for breaking up Britain against 48 % for the status quo – is unsupported by any of the other evidence of the past five years, when Scots voted convincingly to stay in the UK.
And, secondly, it is undoubtedly a reaction to the Boris Johnson premiership and his appointment of the most right wing cabinet since the darkest days of Margaret Thatcher.
Politicians react as poll shows majority of Scots support independence
The SNP is benefiting from a protest vote, but it is hard to see how it can sustain this, come an election, once its record in office is exposed to the proper scrutiny.
Taking just one area of devolved responsibility – health – the Nationalist government could not have made a worse hash of things.
Headlines this week have focused on the new children's hospital in Edinburgh, a £150 million disaster that may be scrapped before it is ever opened.
The facility was supposed to receive its first patients last month but has been plagued by ventilation and drainage problems that have seen it flooded twice and declared unfit for purpose.
Unison official Tam Waterson, who represents Edinburgh NHS staff, told a Sunday newspaper that the building may have to be ripped down.
"My understanding is that we will not know the full extent of the drainage issues until the hospital is working at full capacity," he said. "That is a major health and safety risk."
Waterson described Scottish health secretary Jeane Freeman as the worst health minister he has dealt with, and opposition parties have called for an inquiry into the debacle.
But this is just the latest calamity on Freeman's watch. Glasgow's new flagship hospital was the subject of equally serious concerns just a few months ago, after patients began dying from infections believed to be caused by pigeon droppings.
If this were war torn Aleppo, or some field hospital in a third world outpost, such patient neglect might be more understandable.
But the Queen Elizabeth "super hospital" opened less than four years ago and cost £842 million to build.
Before two people died (one a child), there had reportedly been complaints to the then health minister, Shona Robison, about pigeon infestations and the threat posed to patients by inhaling the airborne fungus Cryptococcus that is found in their droppings.
The SNP government, which is usually quick to pass the buck to Westminster for its shortcomings, is ultimately accountable for these failings.
The appointment of Freeman, "cold" and lacking in empathy, was one of Sturgeon's "biggest mistakes", according to Waterson.
Freeman's deputy, Dundee MSP Joe FitzPatrick, is surely another. It is on his watch, as Scotland's drugs minister, that this country has earned its record as the drug death capital of the world.
Last month, figures revealed that drug deaths in Scotland were up to 1,187, an increase of 27 % on last year's total.
FitzPatrick immediately called on the UK government to act, and his colleague in the Commons, Perth and North Perthshire MP Pete Wishart, chimed in, saying: "The UK government's current drugs policy is failing the people of Scotland."
It is, of course, much easier for the SNP to attack London for Scotland's health crises than to admit that it has mismanaged its most important devolved public service.
Neither FitzPatrick nor Wishart mentioned that Scotland's drug death rate was nearly three times higher than the UK's as a whole, which lands the ball incontrovertibly in the SNP's court.
What's more, per capita spending on health in Scotland has been between 10.6 % (2014-2015) and 13.2 % (2017-2018) higher than the UK average, according to Government Expenditure and Revenue Scotland (GERS) statistics.
If the Nationalist government cannot manage its health brief efficiently, or even safely, on the back of the largesse of the UK Treasury, how can it possibly be entrusted to go it alone?
Instead of prioritising these domestic issues of its own making, the SNP is gearing up for a new independence referendum.
It is diverting yet more funds to navel gazing ventures – such as the establishment of its "Citizens' Assembly" – to try to justify further constitutional upheaval when it should be concentrating on governing.
And when Sturgeon – herself a former health minister – should be devoting her waking hours to salvaging Scotland's scandal hit hospitals, she is climbing on to her independence soap box.
She promises a government that will "act in our interests", but this is something her party has failed to deliver in 10 years of SNP rule.