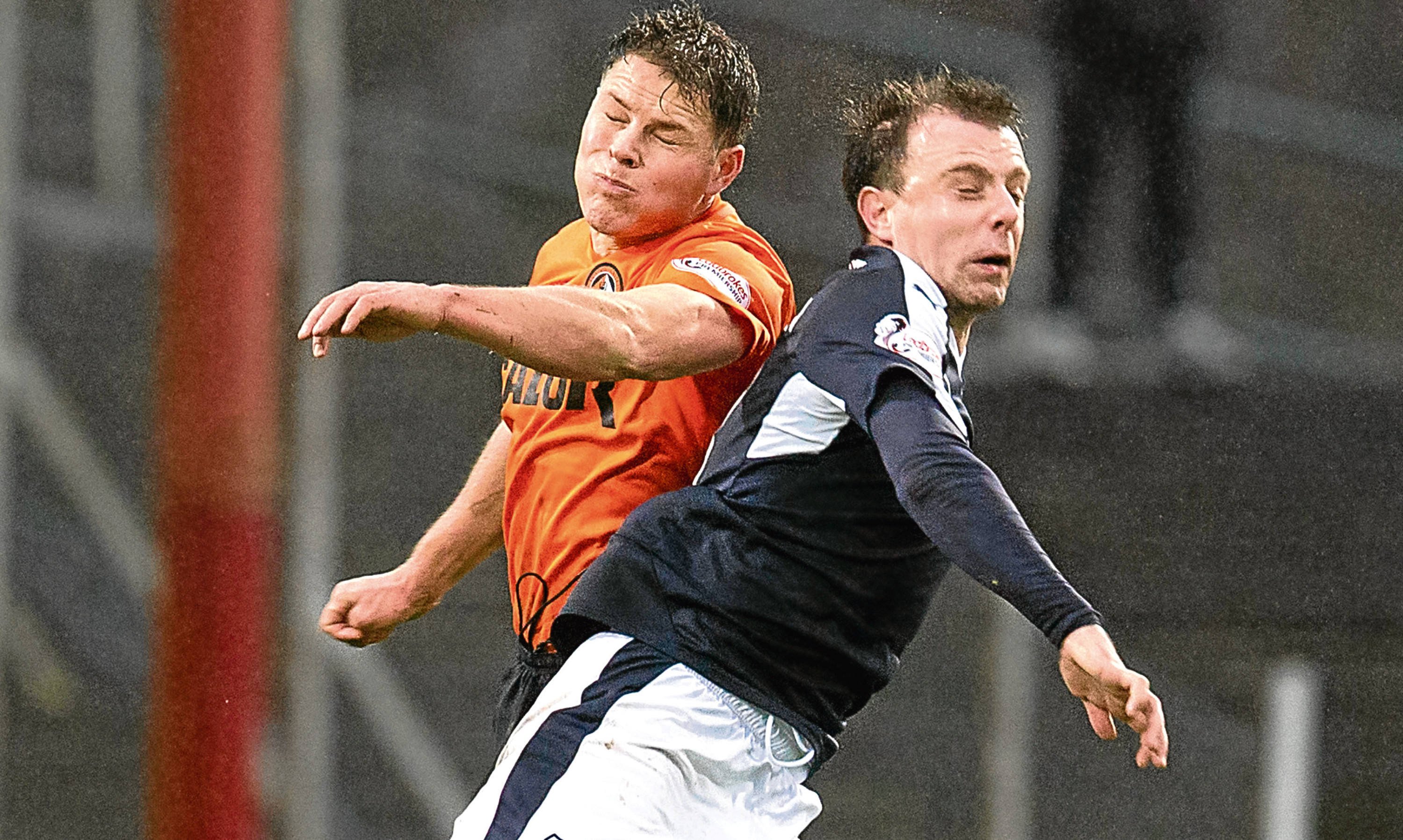 It comes around almost as regularly as leap years.
It hangs in the air like a not wholly disagreeable scent for a while.
Sometimes it can look bright and appealing for a few days, like fresh snow on the Sidlaws, then you wake up one morning and the snow has gone and the Sidlaws look just like themselves again.
It is one of the eternal existential questions of the human condition, or at least the human condition as it impinges on that unique artery of lifeblood that flows along Sandeman Street and Tannadice Street, Dundee: should Dundee's two senior football teams amalgamate?
The answer so far has always been no, or not yet, which is another way of saying no. But the question never goes away for long. And it's back again now.
This time, it arose through this newspaper and courtesy of Jim Spence, who, despite being of the Arab persuasion, is one of the more likeable and thoughtful commentators on what we still like to think of as our national game.
Family goalies
From the possibly unique perspective of one whose family provided a goalkeeper for each club in a single generation (my grandfather Bob Crumley for Dundee and his younger brother Jim Crumley, my great uncle, for United), I beg to differ.
If the only issue at stake was one of economics, then yes, of course a single Dundee club would make more sense than two, a better economic proposition.
And if you factor in the possibility that a single Dundee club would be more consistently successful than the status quo, that would also seem to makes sense.
But I think our society as a whole is in the mess it's in because too many bad decisions are justified on the grounds of guesswork economics. And Scottish professional football, of all human endeavours, has all the economic stability of the Darien disaster.
So I submit that this has nothing to do with economics.
But I do believe that football's place in the hearts and minds of the citizens of Dundee is infinitely better served by the fluctuating fortunes of two teams, because their relative merits and weaknesses are the spice that flavours thousands of conversations every week of every year and helps to define the cultural make-up of the city.
The existence of Dundee and Dundee United in such a close-knit and compact city is pure civic lifeblood.
A single Dundee team would still be economically worse off than Hearts, Hibs, Aberdeen, Celtic, Rangers. It might attract, at best, an average attendance of 12,000 and 10,000 is probably more realistic.
There would certainly be diehard supporters of both Dundee and United who would simply be lost to the game if the team they had followed all their lives simply ceased to exist.
And in the present state of Scottish football, a new Dundee club is certainly not going to bring new people to the terraces who don't already support either Dundee or United.
And if the clubs were to amalgamate and a new club formed in their place, what happens then? Does the new club have to start in the bottom division? Even if both the old clubs happened to be in the Premiership?
There is also this. Dundee versus Dundee United is the best fixture in Scottish football. It is the shining example of those qualities to which Scottish football should aspire.
Good humoured
It is fiercely combative, of course it is and it should be. But it is also hail-fellow-well-met, good-humoured, neighbourly and bigotry-free.
It's about sport, not economics and its about civic wellbeing – Dundee's civic wellbeing. Two Dundee teams amount to much more than the sum of the parts.
And it's about people. It's about Shug Reid, Jimmy Briggs, Doug Cowie, Lando Ugolini, Buhll Broon – sorry, Bill Brown (my dialectal roots were showing there for a minute) – Dennis Gillespie, Alan Gilzean, Pat Liney, Hamish the Goalie by Michael Marra, Grace Kelly pictured by the Taylors' Brothers Coal sign and yes, my grandfather and my Great Uncle Jim and (thanks to people like them) people like you and me.
If you want to talk about ground-sharing at a new stadium, I'm happy to listen to the arguments. If ground-sharing between two of the country's greatest footballing rivals can work anywhere, it would be in Dundee.
Because club loyalties apart, we're friends and neighbours and brothers and sisters and fathers and sons and grandsons.
The best thing that can happen to football in Dundee in the short term is that Dundee finish in the top six and United win promotion.
Neither of these outcomes is improbable and achieving both could be the first step on the way to a settled resumption of normal service, that normal service we know and love.
Then we can talk about ground sharing and maybe by 2020, when the next leap year rolls around, we will have silenced the conspirators, once and for all and my grandfather and my great uncle and Michael Marra can rest in peace.