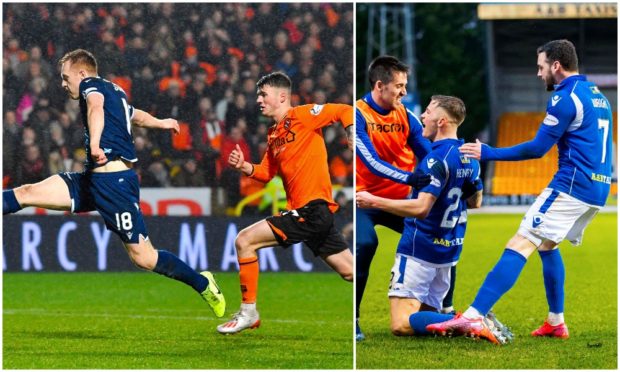 Scottish football faces the prospect of being overwhelmed by the desperate crisis it faces.
With no guarantee of when the game can resume its normal activities, as the coronavirus places everyday life in gridlock, many clubs face a dangerously fraught time and will be fearful for what lies ahead.
Already there's disagreement on whether to try to finish the current season at some future unknown stage, or void it completely.
With clubs like Hearts asking staff to take a 50-per-cent pay cut, and other clubs indicating that they face serious financial headaches, potential turmoil looms.
The problem with the oft-told fable of the 'football family' is that it's actually a very dysfunctional one, where tribalism reigns supreme.
The notion of the greater good is a noble one but it's very difficult to achieve when clubs tend to think first and foremost of self-interest as a crisis rears its head.
The SFA and the SPFL can attempt to help by disbursing some funding to the clubs.
However, with PAYE due shortly, followed quickly by wages, football authorities are unlikely to be able to do more than stick a band aid over gaping financial wounds.
Some clubs could be overwhelmed as income disappears.
Already in England football folk are losing their jobs at some outfits, and the game there is much wealthier than it is in Scotland.
Admittedly, our game has often proved remarkably resilient and fans have proven previously at Dundee, Motherwell, Hearts and elsewhere that they can rise to the challenge of securing the future when adversity strikes.
That path though has always been difficult during normal times while football is being played and money is coming in.
These are wholly unique times. No games = no income = financial nightmare.
The three big clubs in this area may be more fortunate than many. Dundee and Dundee United are both backed by apparently wealthy owners while St Johnstone, having been run fastidiously, have money in the bank.
Whether any of them though can be expected to run indefinitely without contemplating some money saving measures is a vexing question.
Solutions must be found and the highly-paid executives at the SFA and the SPFL will need to find them, in agreement with the clubs.
If that task proves beyond them then casualties are likely I suspect – and it may be that some well-known and historic old names face the prospect of administration.
---
A former football chief executive told me ten to fifteen clubs might not survive the current shutdown.
That sounds implausible to me but three or four medium tier clubs, where outgoings seriously exceed income, could face danger.
Fans might step up with early season ticket purchases and fundraising, as Raith Rovers supporters have done, but if cash flow dries up at any club, prospects become grim.
Government are offering to help businesses with loans and that may save the situation temporarily.
Loans, though, have to be repaid from future earnings and with things looking uncertain, I would be a naively optimistic columnist to suggest that Scottish football doesn't face a rocky road ahead.
St Johnstone owner Geoff Brown has his say on why Friday night football is way forward for SPFL