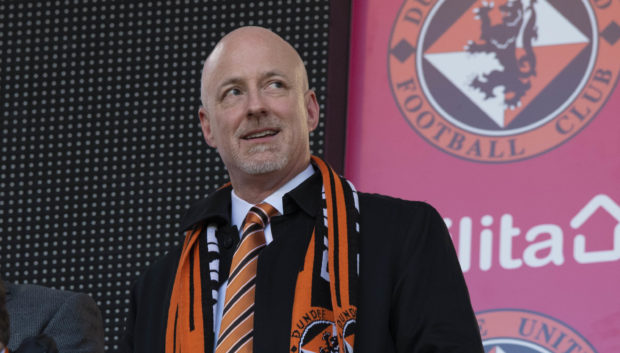 Last March I said in this column: 'The three big clubs in this area may be more fortunate than many. Dundee and Dundee United are both backed by apparently wealthy owners while St Johnstone, having been run fastidiously, have money in the bank.'
Saints have remained in good financial health, but it's a different story in Dundee.
I used the word "apparently" advisedly. No one truly knows just how wealthy folk really are, but what we now know after cuts, firstly at Dens and now at Tannadice, is that neither Tim Keyes nor Mark Ogren have such off the charts riches that they can afford to carry either club without belt-tightening.
United's proposal that the majority of players take wage cuts of twenty percent follows in the footsteps of others who took that route months ago.
Running any club with a wage-to-turnover ratio of 133% is fine if the owner can carry that weight, but Ogren has signalled that he doesn't possess that level of affluence.
United are in an exposed position.
The owner has admitted that there may be transfer activity and, if they end up selling their two key assets Lawrence Shankland and Benjamin Siegrist in the January window, hopes of staying in the Premiership may be damaged.
I wonder whether the loan signing of Marc McNulty was in preparation for Shankland's departure; if so the financial situation increases the likelihood of a transfer, assuming that a buyer can be, or has, been found.
With the entire game in a perilous financial situation, the prospect of a big offer for either player isn't something you'd bet on.
It's all very well saying there'll be no fire sale but, faced with taking what you can get or presiding over an ongoing cash crisis, Ogren may find himself in a weak negotiating position.
The American has asked for government assistance for clubs and appears to have banked on having some fans back in the grounds sooner rather than later.
However, while we're all keen to see supporters return to the stands, I struggle to see how the kind of numbers likely to be permitted to attend can make a dent in United's grim financial position.
A small number, like five hundred, would be counter balanced by costs of required protective measures.
Also, United have 5000 season ticket holders who are presumably first in the queue, have already paid their way, and are therefore unlikely to add much extra income.
Mark Ogren says he still thinks that he can make money in Scottish football, although he accepts that investing was a risk.
It's now looking more likely that he's actually taken a gamble; a shot in the dark, as opposed to a calculated assessment of his chances of getting a return on his outlay, which has been estimated to be as much as £12,000,000.
Ogren seems an honourable man, but it looks to me like he's now closed his wallet.
With ownership of United costing him a large chunk of his wealth, his prediction that things could get messy should concern all but the terminally naïve.
EXCLUSIVE: Dundee United chief Mark Ogren lays bare brutal financial realities at Tannadice as club embarks on cost-cutting programme that 'could get messy'